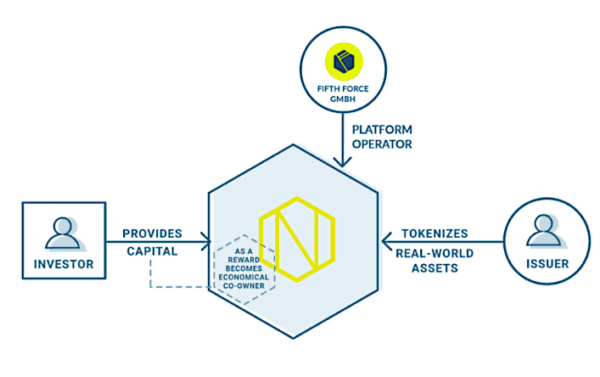 Neufund, a security token offering platform, completed its first issuance of digital securities in their parent company, Fifth Force GmbH, company last month. The purchased tokens will be minted for shareholders on February 12, if everything goes as planned.
The equity token raised an equivalent of €3 387 752.12. The pre-money valuation was pegged at €125 million but purchasers received a 40% discount off the rack rate. The equity token represents not just ownership but voting shares in the company. While Neufund has not made any announcements regarding liquidity, it is expected the token (FTH) will be listed on one or several exchanges within the coming weeks.
There is more than a bit of trailblazing here and not just for Neufund but for the German regulators (BaFin) too who had to greenlight the offering.
Creating a compliant security offering that checks all of the regulatory boxes, while keeping the public officials comfortable with the process, is no small task. Once the first one is done, the others should be easier to complete – in theory. Neufund has publicly posted a deal pipeline of issuers expected to complete an ETO in the coming months.
Neufund's protocols are designed to allow issuers to tokenize any kind of real-world asset. Equity is just the first application.
Neufund is not alone in its quest. There are many others looking to accomplish a similar goal. US-based tZero is expected to turn on its platform within the next week. But Neufund is one of the first primary issuance platforms to complete a sale in Europe. The entire STO industry will be watching to see how the platform proceeds.
On February 12th we will conduct the first NEU payout to all NEU token holders. In order to participate in the payout, please, make sure to withdraw your NEU tokens from exchange wallet to your Blockchain wallet and register the account on the platform. https://t.co/KtsL7siAw7 pic.twitter.com/JZ2zaiz8hw

— Neufund (@neufundorg) January 18, 2019
Sponsored Links by DQ Promote