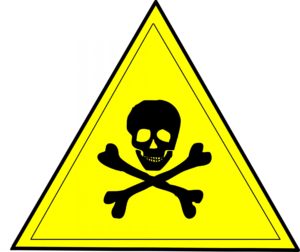 Oakland, California resident Sandford Bemi Faison is being held on charges alleging he tried to buy a toxic chemical on the Dark Net in order to poison his estranged spouse, The Los Angeles Times reports.
The intended victim is also the mother of the accused's two children.
An unsealed court document pertaining to the case says that starting in early December 2018, Faison began using an online pseudonym, for "altcoins" converted to Bitcoins, and a third-party address to procure, "a highly toxic chemical, in amounts capable of killing many people."
The chemical allegedly sought by the accused is classed as a "toxic chemical" and "chemical weapon" under US law, whereby "toxic chemical" refers to "any chemical, which through its chemical action on life processes, can cause death, temporary incapacitation, or permanent harm to humans or animals."
The FBI alleges that substance sought in this particular case, "is easily absorbed through the skin and may produce life-threatening systemic effects with only a single drop."
The accused allegedly walked into a trap when he responded to an ad offering the chemical for sale on a "hidden services website" on the Dark Net posted by an Online Covert Employee (OCE) of the FBI.
While corresponding with the OCE FBI agent, the accused allegedly wrote:
"Newly joined but committed buyer here; figuring out how to fund my wallet, now. Thought to connect amd make a few inquiries before ordering. How many vials of [toxic chemical] do you have left? Is the packaging inconspicuous, or do you use hazard labels?"
Once assured that the packaging would be discreet, the FBI claims the accused then wrote about "frustrations" he was having around preparing the cryptocurrencies needed for the purchase:
"Thanks for the update. I've been frustrated from having to pool alt-coins into BTC (and do so anonymously), but will resume funding my DM wallet this week. Will then order ASAP!"
He also allegedly wrote that downward bitcoin price fluctuations and research questions about the poison's qualities were slowing his purchase:
"I got the BTC but then-of course-the value of BTC went down. Gonna wait it out some to avoid having to lose more in transfer fees. Plus, I'm still research applications of the product. Do you know if this stuff has any ill interactions with water? Also, I can't find any info on it's freezing point. Any insight welcome, and aiming to purchase before xms!"
Several congenial-seeming exchanges appear to have occurred thereafter between the accused and the agent as delivery was negotiated, including:
"Ho ho ho!
So, my Amazon order was blocked. No safety gear, yet . . .
Still, ship when you can — the drop point is good `til shortly after the new year. Just in case, that's [the delivery address] Oh, and Happy New Years!"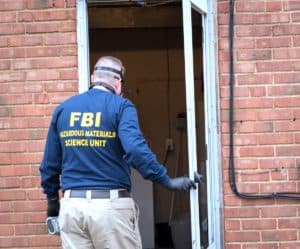 The accused also allegedly posted chilling questions and comments on a Dark Net forum about how to use the poison against his former spouse, including:
"I aim to ensure my wife's death within the 18 months, ideally long after our divorce is finalized (about 6-8 months from now). This is the only way I can begin a new life with full custody of my child. We currently live together, and 1 expect to have (easy) access to her environment and food for another 2 months at least."
"How could I spike her coffee grounds/maker, or take advantage of her coffee making routine?"
"Can I somehow paint the poison on a surface — like her keyboard or car door handle — or would it evaporate? Would mixing it with an oil work or just dilute the potency?"
According to the LA Times, in early January 2019, the FBI sent a package containing a vial and tracking equipment to the address provided by Faison.
Law enforcement then reportedly tracked him from the delivery address as he drove home, where they arrested him after he triggered a signal indicating that he had opened the package.
A search of the accused's quarters reportedly unearthed rubber gloves and a respirator.
According to statements provided by Special Agent Emily Sung in an affidavit pertaining to the case, during a post-arrest interview, Faison admitted he intended to harm his estranged spouse and opted to use poison rather than the services of a hit man because, "hiring a hit man would be as expensive as getting a divorce."