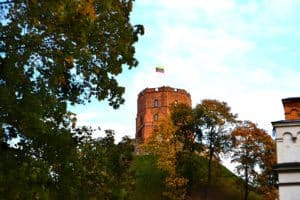 Blockchain, an early Bitcoin wallet startup that has lately expanded its services to include institutional crypto trading services, has announced it is "thrilled" to be opening a fifth location in Vilnius, Lithuania.
Blockchain says that after considering "several options," Vilnius was selected for its, "vibrant talent pool and the city's commitment to innovation."
Lithuania's Minister of Economy and Innovation, Virginijus Sinkevičius, also expressed enthusiasm about the forthcoming Blockchain operation there:
"We're thrilled to welcome Blockchain to Vilnius. The presence of a company as well-known as Blockchain will put Lithuania in the spotlight of the international blockchain community."
Blockchain says it will be hiring, "dozens of designers and customer success agents as well as Android Engineers, Backend Engineers (Java, Kotlin) and Quality Engineers," who will work cooperatively with other Blockchain employees working in London, New York and San Francisco.
According to the company's website, Blockchain is registered in Luxembourg.
Lithuania is a Baltic country bordered by Latvia, Belarus and the "Russian enclave" of Kalingrad.