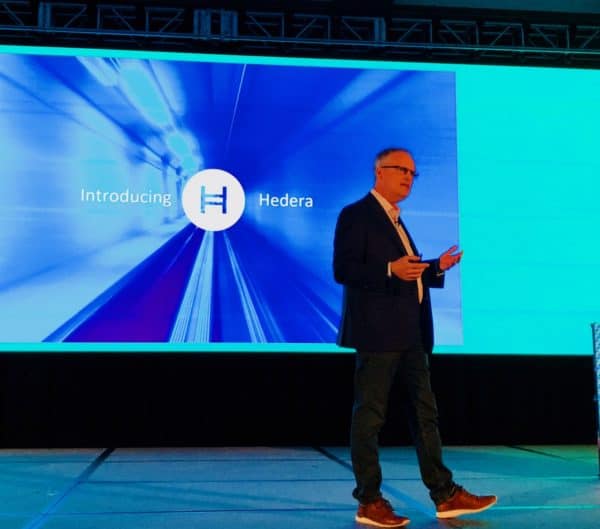 Speedy blockchain Hedera Hashgraph has announced the first members of the Hedera Hashgraph Governing Council. The group will guide changes to the software run by Hedera distributed nodes over time.
Hedera says the initial Council members will be Deutsche Telekom, DLA Piper, Magazine Luiza, Nomura Holdings, Inc., and Swisscom Blockchain AG. Hedera said the members represent a diversified selection of global industries.
Hedera seeks to "guaranteed continued decentralization" of their distributed ledger. Hedera explains that it has focused on addressing "four fundamental roadblocks" to the adoption of distributed ledger technology: technology, security, stability, and governance.
Pointing to a study by the Initiative for Cryptocurrencies and Contracts (IC3) at Cornell University, on "Decentralization in Bitcoin and Ethereum", Hedera notes that the study indicates that the largest blockchains (IE Ethereum) have become more centralized over time.
More specifically, the study indicated the top four Bitcoin miners and top three Ethereum miners control more than 50% of the world's hash rate.
Mance Harmon, CEO of Hedera, commented:
"A general-purpose public ledger should be governed by representatives from a broad range of market sectors and geographies, each with world-class expertise in their respective industries. With this inaugural group, we are demonstrating the caliber of organizations it takes to deliver long-lasting, stable governance for the industry's first enterprise-ready public ledger suitable for mission-critical applications."
Harmon said the members would provide the expertise to manage their roadmap going forward:
"With the Hedera Hashgraph Council, you are seeing a true distributed governance model finally come to fruition, and we could not be more excited about this first group of council members."
John Calian, Senior VP, Head of T-Labs & The Blockchain Group, Deutsche Telekom, said that distributed ledger technology is fundamentally changing business models:
Governing Member Remarks
"Hedera has uniquely thought through the security, governance and scalability concerns that have hampered early iterations of blockchain technology, and have created a public distributed ledger and governing council that will ensure long-term stability, distributed governance, and security."
Scott Thiel, Partner at DLA Piper said Hedera uniquely enables many mechanisms within smart contracts – including Know Your Customer (KYC) and AML (Anti Money Laundering) compliance:
"As we work to bring these kinds of technologies to our clients, we are pleased to join the Hedera Hashgraph Council as an inaugural governing member, to help further shape the adoption of DLT across organizations and governments globally."
Kamal Youssefi, Industry Lead Enterprise Blockchain at Swisscom Blockchain AG, called Hedera a visionary in the blockchain industry.
Harmon has consistently said that Hedera will never, ever fork, unlike certain other DTL platforms.
Hedera hosted a live stream of its first annual summit, held on February 20th in Seoul, Korea.