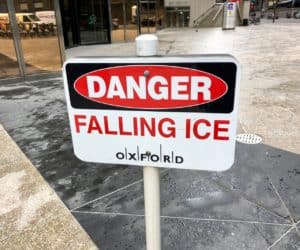 Lawyers for the Bank of Montreal consulting on the case of Quadriga CX, a Canadian cryptocurrency exchange whose founder, Gerald Cotten, died in December –taking access to exchange's funds with him– have told a court they are wary about handling funds in the case due to concerns about their origins, BNN Bloomberg reports.
"This is not a typical situation," one lawyer reportedly told the court via conference call.
Unlike standard currencies, which are typically transmitted through highly regulated channels, cryptocurrencies can be traded across state lines, sometimes with anonymity and often with relatively little interference.
This has made them an attractive medium for criminals, including money-launderers.
Auditing/consulting firm Ernst and Young has been appointed by the Halifax court to monitor the compensation of QuadrigaCX clients, 115 000 of whom have reportedly lost access to CDN $260 million in cash and cryptocurrencies locked up in the debacle.
Canadian banks are not the only ones wary of crypto with regards to their anti-money laundering obligations.
Andrei Kostin, head of Russia's VTB bank, was recently quoted in TASSas stating that crypto cannot be regulated:
"There are a lot of negative factors. I'm not talking about the fact that cryptocurrency is considered dangerous from the point of view of money laundering, terrorist financing, etc… today both the Fed and the ECB regulate the market with monetary policy instruments, but this is impossible, there is no mechanism for regulating the cryptocurrency market…"
Elizabeth Pillon, a lawyer for Ernst and Young, said the banks consulted to possibly handle the $30 million in Quadriga funds available to compensate exchange users were concerned about Quadriga fund origins.
"We don't have the source-of-funds information that the banks are looking for. The monitor has serious concerns about finding another institution to hold these funds."
"I don't blame them for hesitating," said Pillon, reportedly adding that banks had raised concerns about "money-laundering issues."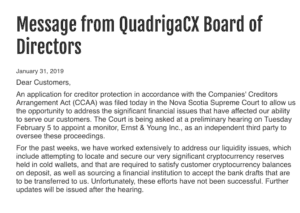 Cotten's widow, Jennifer Robertson, has claimed that Gerald Cotten was the only one with password access to "cold wallets" (offline cryptocurrency storage devices similar to thumb drives) containing a majority of QuadrigaCX's funds.
If true, this an egregious violation of fiduciary responsibility.
In the end, the judge presiding in the case, Justice Michael Wood of the Nova Scotia Supreme Court, "issued an order that will eventually see the QuadrigaCX money deposited in a Royal Bank account, which Ernst and Young will use to pay for the ongoing court proceedings."
Regarding this decision, the Royal reportedly "expressed hesitation" about handling the funds without "direction and relief" from the court.