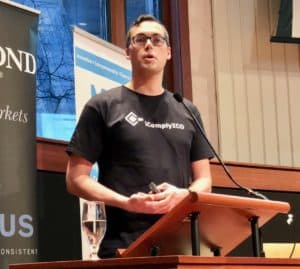 Regtech iComply Investor Services says it will be releasing integrations for Hedera Hashgraph, a public, distributed ledger platform.
iComply says its technology automates compliance requirements for both the traditional and decentralized financial markets in over 150 jurisdictions.
iComply CEO Matthew Unger says that Hedera Hashgraph's application is recognized for being fast and secure. The integration will further globally compliant digital assets such as equity, debt, derivatives, or utility tokens which can be created and issued in minutes and have their compliance automatically managed throughout the life of the asset, explains Unger.
"We are excited that iComply has chosen to integrate their services with Hedera and give our community access to banking-grade compliance, risk, and financial intelligence data," commented Jordan Fried, VP of Global Business Development at Hedera Hashgraph. "Further, this will allow us to better serve financial institutions, and enable a broader range of institutional grade applications to be built, to streamline and reduce operating costs in financial services."
iComply's products are said to enable investor onboarding in seconds, while ensuring adherence to local regulatory standards with its global KYC and BSA solution.
Securities issuers, dealers, and fund managers may automatically populate, track, and account for every investor, document, and transaction for the life of a client.
iComply states that it is a compliance partner for asset tokenization and securitization to 64 legal, accounting, and advisory firms inn 84 countries.
iComplyIS.com