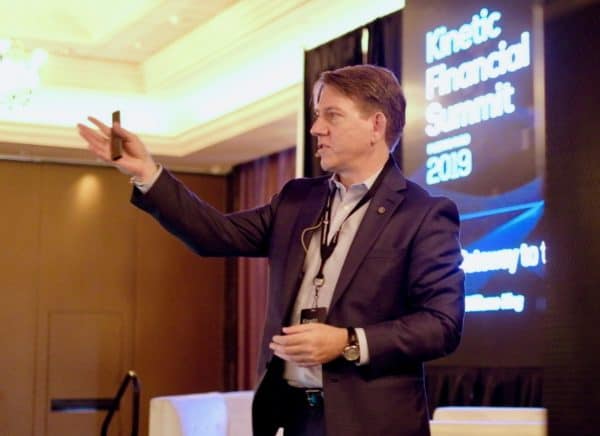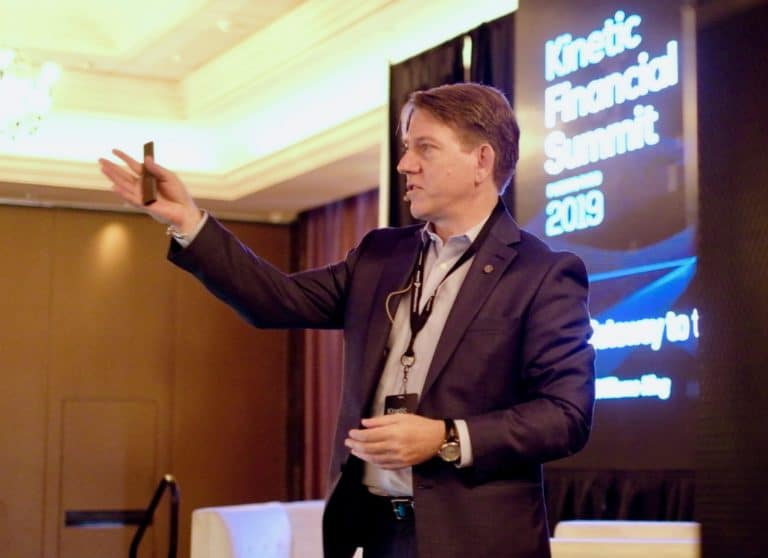 Kinetic International is the new kid on the banking block. After years of diligent wading through a complex and often trying regulatory approval process, Kinetic CEO Michael Williams heads up the first international private bank that is both fully compliant with US banking regulations (it is subject to the federal laws and rules related to North American bank practices, having to comply with the federal regulations governing all US banks: CIP, AML, BSA and Patriot Act) – and also benefits from the offshore tax status offered by the US territory of Puerto Rico.
Williams is a former derivatives trader who made money and settled in Puerto Rico five years ago.
Crowdfund Insider spoke with him at Kinetic's financial summit in San Juan as the bank launches a trading platform for an international clientele seeking to trade a wide range of securities. The ISX platform will use blockchain technology as part of its back-office and settlement systems.
How did the conference go and what was the mix of attendees?
Michael Williams: Rather than a conference, this was a series of private round tables respecting Chatham House Rules. This process encouraged engagement, an exchange of ideas, solutions, and of course networking.
Networking is critical in order to execute any financial project. We were careful to select participants in a wide variety of sectors including; aerospace & defense, communication, construction, finance, banking, manufacturing, and technologies from around the world.  These were the decision-makers in these sectors.
Kinetic International believes that introductions to vetted and qualified people and firms are always free, in order to provide a strong and trusted community. Our role was to provide context to the Puerto Rico story and its role internationally. To help foster a network in best in class companies and people.
Why Puerto Rico? What are the advantages and disadvantages, both fiscal and cultural, as you see them?
Michael Williams: Puerto Rico's advantages are the educated bi-lingual workforce, infrastructure, US laws, and regulations. And of course, certain corporate tax advantages for those wishing to bring business to the island and provide jobs. There are not many disadvantages, but one that does stifle economic growth is the lack of efficient processes for permits, RFPs, licenses, property records, and tax collecting. However, the disadvantages of an inefficient process are one reason that the opportunities exist. Identifying inefficient process and bringing forth change is what drives market-based economies. As they say, necessity is the mother of invention.
The ISX platform is at the center of your launch strategy. What is it?
Michael Williams: ISX is an agnostic Fintech solution providing accredited investors and institutions access to various private financial products. These products can be, but not limited to; private equity, bonds, warrants, and promissory notes.
An investor fund/holding company opens a bank account. Money deposited into the bank account is reflected in ISX.
ISX provides detailed information, including third-party audited financial, legal review, NAV, and other information on each financial product. 
When an investor decides to invest in a private-equity product, ISX handles the transaction between the investor holding company, the bank, and the private-equity product.
For new platforms, liquidity can be a problem. How will you facilitate this?
Michael Williams: Ironically the liquidity, buy-side, does not seem to be the problem. There is over $1 trillion per year undeployed in the private financial market space. The archaic process and lack of transparency create investor trepidation and lengthy due diligence. 
What we are looking for is quality private financial products. One can build great technology and provide users access, but without quality products to invest, it's just fancy technology. The value is in the products, not the tech. A marketplace without product is not a marketplace.
Ironically the liquidity, buy-side, does not seem to be the problem. There is over $1 trillion per year undeployed in the private financial market space
What part does blockchain play in the ISX platform?
Michael Williams: ISX is not a crypto company, it does not issue security tokens or utility tokens, or ICOs.
Blockchain is just one technology component being integrated. Blockchain's primary characteristics of providing a detailed transaction log (ledger) and a set of known notaries (nodes) establishes transactional records.
We believed it is a great use case for the technology. It is one part of the Fintech solution.
When's the official start date?
Michael Williams: On March 1st we launched the platform to begin the onboarding process of users and products. Each product takes approximately 4-6 weeks, depending on the complexity of the financial product to prepare it to be connected on ISX.  With the first products available second quarter.
So how many players will be on the platform at this initial stage? And what will the notional value of the product offerings be?
Michael Williams: As we onboard license holding companies and begin the KYC, AML, and Accredited Investor process, we hope to have approximately 100 completed for the start date. The NAV of products currently in the pipeline for the start date is approximately $500m.
What are your personal benchmarks for success?
Michael Williams: For Kinetic International it is applying financial logistics to solve problems. A successful outcome is helping our clients increase topline revenue and/or decreasing costs.
As per ISX, a measured success is each completed transaction.
I do not wish to place too much emphasis on growth projections and targets for benchmarks. All too often you see companies focus on hitting targeted projections, in which the company will compromise the product or service, because quantity becomes the operative word, rather than quality.
Where do you hope Kinetic and ISX will be in five years' time?
Michael Williams: We strive to make Kinetic International the leading international private investment bank that provides bespoke financial logistic services to our clients. We do not measure the quantity of clients, but the quality of the clients and our ability to provide the bespoke financial logistic services they need. We never wish to grow too big or too fast as to not be able to provide the personal service that is needed to manage first-class financial logistics. Kinetic's success will be measured by our client's success.
I would hope that ISX is seen as a pioneer and of course the premier agnostic fintech solution for the private financial markets. 
---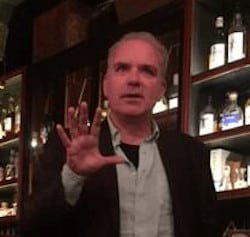 Martin Baker is an author, journalist, and entrepreneur.  He is editor and co-founder, Wet Zebra Media; Editor, co-founder, Another Crowd – altfi journalism platform; Founder, Boom Op Films. Director of communications, Money&Co. Columnist/contributor – Daily Telegraph, The Independent, AltFi and Crowdfund Insider. Baker is a qualified UK lawyer and a Fellow of the Royal Society of Arts.
Publications include:
A Fool And His Money (Orion, 1995)

Meltdown (Macmillan, 2008)

Version Thirteen (Penguin Random House/Unbound 2014)

The Dark Coronation, third part of the Spendlove trilogy, slated for 2019
Sponsored Links by DQ Promote