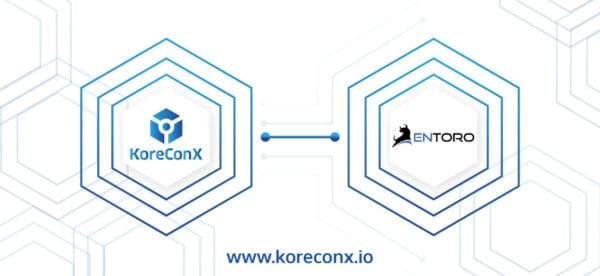 KoreConX announced on Wednesday it has formed a new partnership with global investment banking group, Entoro Capital. According to KoreConX, Entoro provides advice and services to a wide range of established and growth-oriented businesses around the world. The bank's experienced professionals notably offer expertise across a full range of services in investment banking, equities and fixed income in the Americas, Europe, South America, the Middle East, and Asia.
Speaking about the partnership, Oscar Jofre, Co-Founder and CEO of KoreConX, stated:
"We are very careful in the process of selecting our KorePartners. And Entoro is a great choice. They actively agree and promote our governance standards, as they also take investor protection very seriously."
Entoro Capital Managing Partner, James C. Row, then commented:
"As a global investment bank, we partner with companies that have a presence in the most important cities in the world and share our core values. And KoreConX does just that, with its relentless work in making business easier for both issuers and investors, worldwide."
KoreConX went on to add that Entoro will be joining its KorePartner ecosystem, which is a group of selected broker-dealers, secondary market platforms, capital markets platforms, lawyers, compliance, investor relations, accounting, and marketing firms that support the KoreConX security token protocol and adhere to KoreConX governance standards.