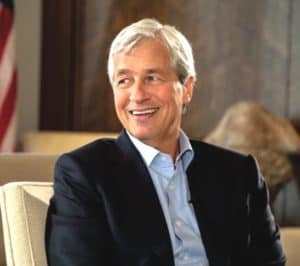 JP Morgan Chase CEO Jamie Dimon is out with his annual shareholder letter, a missive that is widely read not only for its insight into the future of JPM but for Dimon's thoughts on other issues.
As one would expect, Dimon covered a wide swath of topics. He touted JPM's growing digital chops and ability to service customers both digitally and physically.
Dimon noted that JPM customers can open a new deposit account digitally under five minutes. This new functionality added approximately 1.5 million new accounts since February 2018.
"…we're expanding this functionality inside our branches as well. We also recently announced Chase MyHome, our new digitally enabled mortgage fulfillment process that prefills applications for our existing customers. It's 20% faster than our paper-based process, allowing us to close a mortgage within three weeks. Our confidence in our enhanced approach is reflected in our money-back guarantee."
Fintech, always a hot topic, was mentioned as not only an opportunity but as looming competition.
"..we cannot be complacent. There are many capable financial technology (Fintech) companies in the United States and around the world – technology always creates opportunities for disruption," said Dimon. "We have acknowledged that companies like Square and PayPal have done things that we could have done but did not. They looked at clients' problems, improved straight-through processing, added data and analytics to products, and moved quickly."
Dimon said that JPM has been looking more closely at China – the largest Fintech market in the world. From online lending, to wealth management, to blockchain, China is moving at a rapid pace.
"We recently sent one of our senior teams to China to study what's being achieved there with artificial intelligence (AI) and Fintech, and it's hard not to be both impressed and a little worried about the progress China has made – it made our management team even more motivated to move quickly. Suffice it to say, no matter what our current performance is, we cannot rest on our laurels," cautioned Dimon.
Perhaps the biggest cause for concern is the emerging siren song of socialism. Recently, socialism has gained traction in the US, and according to Dimon, socialism is a threat to the prosperity and success of the nation.
Quoting Margaret Thatcher, Dimon said, "The problem with socialism is that eventually, you run out of other people's money."
"Socialism inevitably produces stagnation, corruption and often worse – such as authoritarian government officials who often have an increasing ability to interfere with both the economy and individual lives – which they frequently do to maintain power. This would be as much a disaster for our country as it has been in the other places it's been tried."
One item that was missing from Dimon's commentary was JPM's blockchain efforts such as JPM Coin. It has been reported that JPM is one of the biggest investors in blockchain tech out of all of the US based big banks. Perhaps blockchain will garner a mention in 2020.
---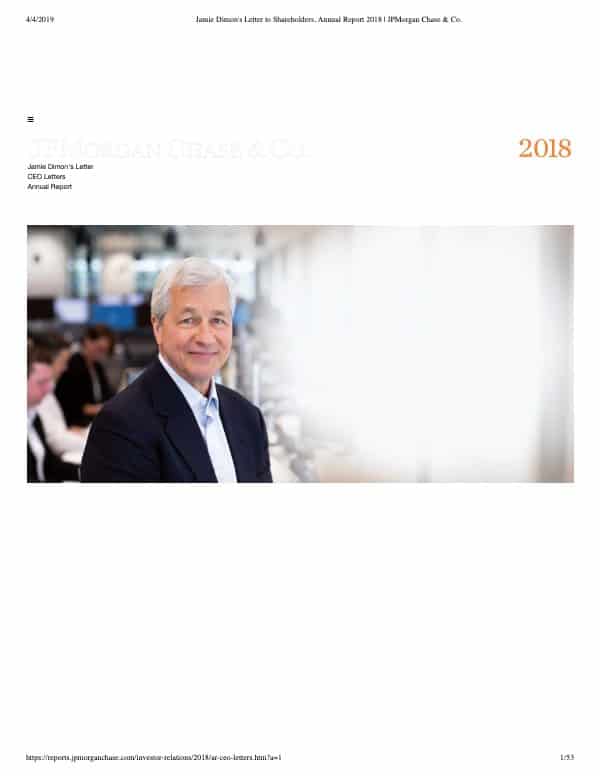 ---
Sponsored