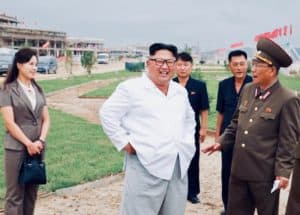 North Korea has added to its standard program of hacking banks in the developing world by launching computer-borne attacks against cryptocurrency exchanges, Wired reports.
To further complicate matters, at least part of the billions of dollars so far garnered in these hacks is being used to bankroll the North Korea's secretive nuclear missile program, sources to Wired claim.
According to the Council on Foreign Relations, North Korea has been coping with sanctions imposed on it for pursuing a nuclear program since at 2006.
The sanctions have since taken many forms, Wired writes.
"From bans on the imports of coal, wood and minerals to sanctions blocking luxury goods and placing restrictions on fishing rights…"
But according to the Council on Foreign Relations:
"While these measures have exacted a heavy toll on the North Korean economy, experts say their effectiveness has been undermined by the failure of some countries to enforce them and the willingness of some companies to flout them."
As well, "North Korea's leadership, under successive Kims, considers nuclear weapons the sole means to guarantee its survival."
Wired writes that the country is determined to pursue its own course by any means:
"North Korea's response has been to hack and scam its way out of trouble."
Recent crypto exchange hacks linked to the country have brought in revenues of almost $600 million USD:
"Between January 2017 and September 2018, North Korea's state-sponsored hackers are thought to have stolen $571m in cryptocurrency from five exchanges in Asia. "
Earlier this year, the UN deliberated a report by the United Nations Security Council that detailed North Korean sanction-evading efforts, including the use of ICO (initial coin offering) scams like "Marine Chain" and hacks on banks and crypto exchanges.
According to Wired, one country participating in the deliberations told the UN Security Council investigators:
"Cyberspace is used by the DPRK as an asymmetric means to carry out illicit and undercover operations in the field of cybercrime and sanctions evasion."
Recent crypto exchange hacks, says Wired, are, "…just the tip of the iceberg."
Even more has been stolen by "the elite group of hackers…(a)t the centre of North Korea's money-spinning cybercrime operation…"
The "prolific group" has also attacked banks in:
"Bangladesh, India, Mexico, Pakistan, Philippines, South Korea, Taiwan, Turkey and twice in both Chile and Vietnam."
Hacks have probably been attempted in the developed world, as well:
"It is highly likely that the group has also attempted to target banks in western Europe but a higher level of cybersecurity protection has prevented the attacks from being successful."
According to Wired, operational demands require that the small group be fluent in multiple foreign languages.
Polyglot geeks are North Korea's new war heroes:
"The group, known as APT 38, believed to number fewer than 20 people, is said to be highly-skilled, well-resourced and directly responsible for bringing in $1 billion for the country's economy in 2018 alone."
Sources to Wired insist some of these monies are being funneled directly to Kim Jong-un's darling nuclear program. The Council on Foreign Relations' Scott A. Snyder has written that Kim regards the country's nuclear program as, "a 'treasured sword' and a silver bullet capable of keeping domestic and international enemies at bay."
According to a Wired source:
"Security analysts are unanimous in assessing that the funds stolen by APT 38 – a significant percentage of North Korean GDP – are channeled into the DPRK's missile and nuclear development programs."
Another source to Wired said that citizens need to be aware of the national security implications of personal online security and email hygiene:
"Cybersecurity is no longer just about stopping criminals or protecting your technology…It is about preventing regimes like North Korea from obtaining the means to wage nuclear war."
The same expert asked:
"We need to ask ourselves – when North Korea tests their next missile, is it really okay that they paid for it with Bitcoin?"