Does the name Tivoli Audio sound familiar?  Thomas DeVesto, the CEO, Founder, and Designer of Tivoli Audio (acq. 2015) and Cambridge SoundWorks (acq. 2000), recently launched his newest company, Como Audio, which designs, manufactures, and sells smart speakers. After successfully Kickstarting this past March (973 backers pledged $268,142 and in May 2017 (602 backers pledged $215,966), Como initiated a Wefunder equity crowdfunding campaign to raise a maximum target of $1,070,000.  To date, over $110,600 has been raised from 62+ investors for the $10M pre-money valuated Como.
"All our speakers prioritize high-quality sound, beautiful design, and multi-room capabilities. Como is my 3rd company in this industry: I spent the last 40 years pushing boundaries in consumer audio electronics… When I sold Tivoli, we did over $40M in annual sales. In the 2 years since we started shipping product at Como, we've sold over $4M," commented Audio Hall of Fame Designer DeVesto on Wefunder.
Campaign highlights include nearly $2M in sales last year, already 330+ dealers and retailers in 25 countries, more than $1.5M in paid-up inventory worldwide, 50% YoY growth in smart speaker market from 2017-2018.  Como Audio raised nearly $500K on Kickstarter from 1,500+ backers and delivered Kickstarter rewards early. For all four products, the company's average Amazon review is 4.2 out of 5 stars.
"Como Audio is all about letting you access all of your music from one device with the press of a button. It was named after Lake Como in Italy where I live part-time," Devesto explained in the Wefunder Q&A. "We developed it with the idea in mind that not only should the device sound good but should be something that looks nice and is able to stand the test of time."
Did I mention that Como already has partnerships with Google and Amazon and reportedly has a worldwide logistics system in place? Speakers are received in the US and Europe within 2-3 days, and in Asia, within a week or so.
Now Live! @comoaudio #crowdfunding @wefunder Smart speakers for your entire home. No smartphone or computer needed. #highfidelity #musicsystems
How will Como utilize its latest funding round? According to the campaign, if Como raises between $100K and $1M, it will be able to bring two new products to market:
"The first is Speakeasy, made in partnership with Google, with the Google Assistant built-in. We are one of the few companies in the world with a license to create this type of product (the others are giants such as Sony). Just by uttering "Okay, Google," followed by a command, you can play music, control compatible devices (lighting, thermostats, etc.) around the home, set an alarm, and much more. Link your existing Spotify, Pandora, iHeart Radio, and other compatible premium streaming accounts and access them all by voice control. Unlike many voice assistant products, SpeakEasy is engineered specifically to sound great with music."
The second product is a wireless Turntable.
"Utilizing a low-noise motor and ultra-precision frequency generator, this precision belt-driven turntable provides speed stability without adding vibration. The arm's unique design will allow immediate playback, eliminating the need to adjust a counterweight or anti-skating, while still providing superb sound quality. Wireless connection to our music systems via Bluetooth will be available, as well as a wired option using an included audio cable. The turntable will be offered in walnut and hickory real-wood veneers and multi-layer, high-gloss piano black and white finishes to complement our music systems, and come with a removeable dust cover and black Como Audio slip mat."
[email protected] Listen to the Music: 'The time was right, the resources were there, and I knew I could design something special.' #crowdfunding on @Wefunder
Why reënter the smart speaker market?
"I wanted to remain active in the audio business but I didn't want to resurrect what I had done at my previous companies. I saw a gap in the marketplace for an easy to use, elegant looking music system that supported various music content delivery sources," shared Devesto in the Wefunder Q&A. "I also had access to some of the very talented people who had worked with me at Tivoli and who had since been let go. The time was right, the resources were there, and I knew I could design something special."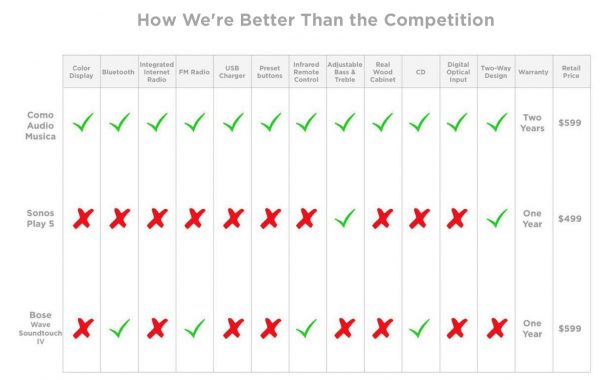 Sonos, Bose or Como? Como Audio has found a niche market.
"Our products really do go against the current grain. I really tried to make a product that looked different. I paid attention to detail – everything needs to fit and look right. The cost is affordable and very high quality. You can use these anywhere in your house without an app or computer; anyone can walk up to it, press a button, and listen to music. Sonos remains the biggest and best-known competitor for us and everyone else. Their products have more of an industrial look. Some people like that. I went with a more traditional, somewhat "vintage" design. I used wood which not only looks nice, it makes for a better speaker enclosure. Our models have a display so you can see what you're doing and what's playing. We also have actual knobs and push buttons so you can access features easily and get a nice tactile experience."
[email protected] 'I call this 'the guest bedroom test: Put a Sonos model in a guest bedroom and see how many people can figure out what to do with it, then try one of ours.' @wefunder

Como Audio speakers range from $299 to $649. Companion speakers range from $129 to $149. Across the board, our gross profit margins average 48%. Investor perks range from 25% off of one Como Audio purchase made in 2019 (not for re-sale) at the  $500+ level to 40% off of one Como Audio purchase made in 2019 (not for re-sale) at the $5,000+ level.

For more detailed financials about Como Audio and Wefunder campaign updates, please click here.

_____________________________________________

Have a crowdfunding offering you'd like to share? Submit an offering for consideration using our Submit a Tip form and we may share it on our site!

Sponsored Links by DQ Promote