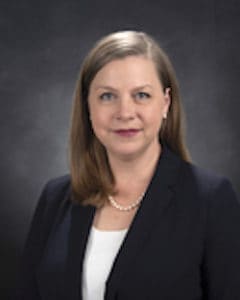 Last week, Federal Reserve Governor Michelle W. Bowman delivered a speech at the "Fed Family" luncheon at the Federal Reserve Bank of San Francisco. The topic of her presentation was "Community Banking in the Age of Innovation."
Bowman joined as a member of the Board of Governors of the Federal Reserve System on November 26, 2018, to fill an unexpired term ending January 31, 2020. Prior to that, Bowman served as the state bank commissioner of Kansas from January 2017 to November 2018. She also served as vice president of Farmers & Drovers Bank in Kansas from 2010 to 2017. Bowman spent considerable time in DC including a period where she worked for Senator Bob Dole of Kansas.
In her speech, Bowman addressed the topic of community banks and Fintech. Community banks have endured a period of consolidation. Since 2004, the number of community banks has gone from approximately 8000 institutions to just over 5,000 banks in 2018. While there is some debate, many people see a struggling business model due to excessive regulatory costs as the main cause of the declining number of smaller banks.
Simultaneously, many banks are loathe to originate small loans as the cost to underwrite a $100,000 loan is about the same as a $1 million loan. Which one is more economical?
Bowman, in her opinion, sees an opportunity for community banks to remain relevant via partnerships with Fintech firms.
Noting that Fintechs now originate more personal loans than banks, Bowman says this is not all bad news:
"… we should not simply assume that gains by fintech lenders are necessarily at the expense of banks. A large share of fintech lending is actually originated by bank partners working with Fintech firms. Similarly, the funds that flow between a Fintech lender and borrowers almost always travel across the payment services of a bank. So, while the changes in the market pose potential competitive threats to banks, the changes also raise potential new opportunities for banks. This is especially true for community banks, which are frequently the banks working most closely with Fintech lenders."
Bowman advises that rather than fear the emerging competition, community banks should "determine how to adjust their businesses to make the best use of new technologies."
Adapt or Die?
While businesses value the personal touch a local lender can provide they do not like the laborious paper work and lengthy approval process when dealing with a bank. This is where digital friendly Fintechs can help out.
Bowman explained:
"Partnering with a fintech firm can offer a community bank the best of both worlds. The bank can take advantage of new technology and all the efficiencies that come with it as an extension of the banks' relationship-banking model. In a sense, Fintech is just the latest evolution of a long history of community banks leveraging technology to provide financial services … community banks offer potential Fintech partners a consumer-first approach to business and a number of advantages: deposit insurance and liquidity; a stable customer base; credibility in a local community; and settlement and compliance services."
Of course, if community banks fight change the outcome may be dire. Ignoring a digital future will only work so long. Bowman believes that "if a bank has not started thinking about how innovation may impact its business, it is very late to the game." Bowman is concerned that some banks are not innovating as they lack the ability to navigate the complex regulatory environment. But for any bank to disregard Fintech innovation, the end is clear. It is just a question of when.