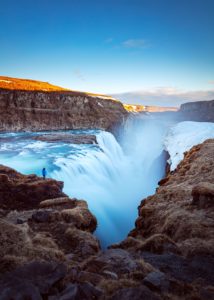 Cheap hydroelectric and geothermal power, cooler temperatures and a relatively stable business environment have drawn droves of cryptocurrency mining firms to Iceland over the past few years.
Abandoned industrial sites, fish factories, and even barns have been commandeered for the mining of Bitcoins and other cryptographic coins and have been filled to the brim with noisy mining computers running 24-hours-a-day.
For a while, miners and the firms selling them power have been quite happy, and the rest of Iceland mostly bemused by developments.
More recently, however, the cryptomining sector has been attracting the concerned attention of Icelandic environmentalists, Al Jazeera reports.
They fear that as the sector grows larger in Iceland, it's footprint will threaten the natural environment.
"Iceland still has one of the biggest wilderness areas in Europe," environmentalist Tomas Gudbjartsson told Al Jazeera. "We will simply destroy these areas if we continue."
While the power used in Iceland to mine bitcoins and the like is "renewable" and "green" and carbon neutral in its production, crypto mining is otherwise known for its gross energy consumption and prodigious production of E-waste.
Economist Alex de Vries has claimed that the bitcoin network consumes as much energy as the state of Israel despite only processing about 81.4 million transactions in 2018.
As well, de Vries claims the network may generate, "…10,948 metric tonnes (of e-waste annually). This amount of e-waste is comparable to the total e-waste generated by a country like Luxembourg (12 kt)."
In his comprehensive recent reporton the environmental impact of bitcoin mining, de Vries details the bitcoin network's extreme energy consumption.
The economist also provides shocking figures that show that a single transaction made across the bitcoin network consumes as much energy as 100 loads of laundry washed and dried.
And though Iceland's energy comes from green and naturally occurring sources, that industry has its own impact on surroundings.
"…(T)his 'green energy' is not entirely environmentally friendly," Al Jazeera writes. "Hydroelectric dams sink untouched land under water and alter rivers and waterfalls…Geothermal power plants are built over natural hot spring areas, spoiling the unique landscape."
To Johann Snorri Sigurbergsson, Business Development Manager at the lcelandic energy firm HS Orka, bitcoin miners are simply, "…great customers."
"The computers are just always on, always running on maximum capacity," he said.
According to Al Jazeera, in the past year HS Orka's supply was almost tapped:
"HS Orka provides electricity to the southwestern Reykjanes peninsula where the cryptocurrency 'farms' are largely based. Over the past year, the region's energy supply has been nearly exhausted and HS Orka is expanding its capacity with a hydroelectric dam in the remote Tungufljot river, near the Great Geysir hot spring tourist attraction."
Meanwhile, environmentalists are pointing that largely automated cryptomining businesses consume vast resources while employing few:
"Bitcoin is not creating jobs. Instead, the industry makes irreversible damages on waterfalls and wilderness. I am not willing to make that sacrifice and fortunately a lot of Icelanders agree."
Sponsored Links by DQ Promote