A dedicated ne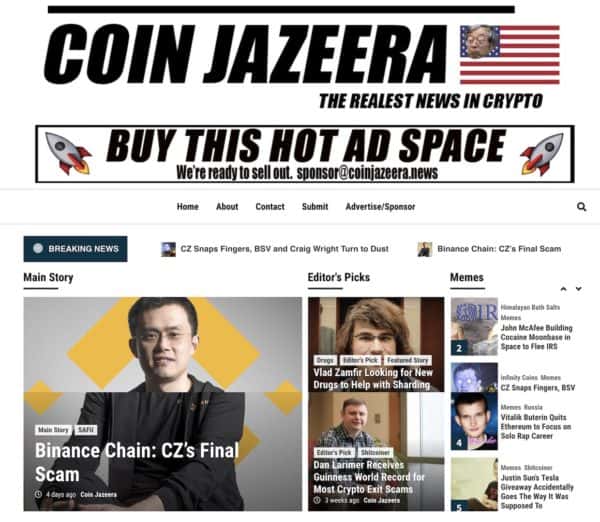 ws satire site has been making quick work of arguably dubious cryptocurrency products, personages and news sites since its launch three weeks ago.
"CoinJazeera, The Realest News in Crypto" publishes content by an anonymous writer or writers and is also seeking submissions and tips.
The site is designed to resemble a "real" online crypto news publication except all the features are mock.
Where a banner ad might appear on a "real" news site, on CoinJazeera there's a banner ad that reads, "BUY THIS HOT AD SPACE We're ready to sell out. [email protected]"
Writers at CoinJazeera show an intimate knowledge of "the space," as it were, and the unifying perspective displayed by articles seems to be that of a classic Bitcoiner with a healthy distaste for the rampant greed and incompetence that have all but overcome "Satoshi's vision."
Choice CoinJazeera headlines include:
"(Ethereum's) Vlad Zamfir Looking for New Drugs to Help With Sharding Ideas"
"John McAfee Building Cocaine Moonbase in Space to Flee
"Binance Chain: CZ's Final Scam"
The last headline refers to CZ Zhang and the exchange he founded, Binance, which is currently the world's largest cryptocurrency exchange.
Binance has lately released its own cryptocurrency blockchain, and at least one project, a South Korean gifting platform called Gifto recently announced it was migrating from Ethereum to Binance chain because the latter, "better suits our aggressive plans for mainstream adoption; one where the real usage and growth of the Gifto ecosystem can be shown today without incurring massive fees or slow transaction times which negatively impact user experience."
CoinJazeera makes bold, satirical assertions regarding what is really behind the meteoric success of CZ Zhang and Binance:
"Our reporters learned that the reason behind Binance's unrivaled success in the Shitcoin Age of 2017 was through a mastery of the art of regulatory arbitrage. Regulatory arbitrage involves capitalizing on regulatory loopholes in order to circumvent unfavorable regulation. While US Crypto exchanges such as Coinbase, Kraken, and Gemini, and even more legitimate ones including Poloniex and Bittrex were bent over and mercilessly gangbanged by FinCen, the IRS, and the SEC; Binance fled both Hong Kong and Japan and geographically relocated to the cliché island country of Malta. This allowed the company to avoid unfavorable regulations that would harm the customer experience, such as KYC checks for US customers that prevent popular features such as money laundering, market manipulation, and tax evasion. Binance customers would now be free to steal money with popular trading tactics including pump and dumps, price fixing, spoofing, front-running, and wash trading."
Coin Jazeera jokes:
"In a stroke of machiavellian brilliance, Binance has repackaged the notorious money laundering tool, the Initial Coin Offering (ICO), as the new and improved Initial Exchange Offering (IEO)…An IEO is when a morally ambiguous overseas exchange does a token sale, decentralizes investors money into their own coffers, and then immediately lists the token on their own platform. It is a revised form of the ICO financial product that solves the regulatory problems around selling unregistered securities to non-accredited investors. The IEO also guarantees an immediate top exchange listing upon launch of the coin. This is Chinese copy-and-improve at its best."
Eric Voorhees, the vocal Libertarian founder of Shapeshift, a cryptocurrency hot wallet service that until recently allowed anonymous in-wallet crypto-to-crypto trades is also ridiculed at Coin Jazeera:
"Erik Voorhees, CEO of Swiss-based money laundering service ShapeShift AG, took the main stage at the Community Ethereum Development Conference, EDCON 2019, in Sydney, Australia to make a bold promise to the world: revolutionary disappointment…Back when we introduced KYC to our flagship product, ShapeShift.io, we saw in the optics that we really managed to piss off the majority of our users. We thought we could do better. We launched the useless FOX token to force people to KYC and AML and even launched a loyalty program with tiers so you could pick how badly you wanted to be schlonged."
Arthur Hays, CEO of the Bitmex bitcoin derivatives trading platform, which allows users to make huge leveraged trades of bitcoins, is also ridiculed in what could be considered a racialized satirical depiction.
The graphics accompanying the article, "BitMEX CEO Arthur Hayes REKTs Users with Big Black Block," shows Hayes face superimposed on the body of a black man, presumably African, with a scarified torso.
The rest of the piece includes, for example, references to "The African God of Scam, Ian Balina," an ICO-promoter and another of the few well-known black men in crypto.
Hayes is later depicted wielding "a black hammer" that is "girthy and thick, (and) is ribbed…for the wielders pleasure…" etc.
A mythical depiction of Hayes thereafter shows him wielding said hammer to "REK" (liquidate the holdings of) Bitmex users.
While the racialized depiction of Hayes can easily be regarded as clumsy and problematic, one could also argue that the exaggerated depiction of "hypermasculine blackness" used to portray Hayes is also designed to skewer the masculinist fantasies that seem to preoccupy many of the young men who comprise the majority of crypto culture.
It will be interesting to see if Coin Jazeera ever turns the critique on classic Bitcoiner culture itself, which has so far failed to publicly confront the fact that Bitcoin seems to have many features of a negative-sum Ponzi scheme.
Meanwhile, though Coin Jazeera may not be politically perfect, the outlet is a welcome respite in the sea of conflict-of-interest that crypto culture and business seem to ever risk drowning in.