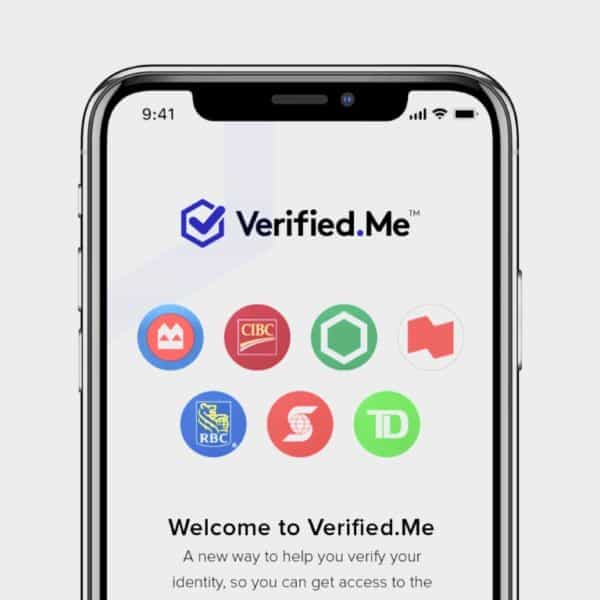 It appears that Canada's financial services sector is making progress on incorporating blockchain tech for identity verification. SecureKey Technologies is out with a note saying their digital identity network, Verified.Me, is now available for use at TD, Scotiabank, RBC, Desjardins, and CIBC. SecureKey says that BMO Bank of Montreal and National Bank of Canada will be launching soon. Additionally, Sun Life Financial has signed on – the first North American insurer on the service. So just about all the big Canadian banks have moved forward with using distributed ledger technology for identity verification.
SecureKey says they use a "holistic" approach that protects the interests of consumers and businesses. In a world where identity theft is rampant, we hope SecureKey's path provides a path to identification that safeguards the information from the nefarious realm of the dark web with is littered with individual's private information.
For the businesses using the service, they may achieve a streamlined and cost-efficient client services and onboarding.
Greg Wolfond, founder and CEO, SecureKey Technologies, says this is the first time that consumers are able to gain greater control over their digital identities – one of the most enduring challenges of our time. He expects the service to expand in the near future.
"As Canadians increasingly turn to digital channels, it's important to continue to develop solutions that create a more seamless way for Canadians to get access to the products and services they need," commented Brett Pitts, Chief Digital Officer, BMO Financial Group. "With Verified.Me, Canadians can now have an easier and more secure way to share their personal information, and it puts them in control to share that information when and how they want."
Greg Elcich, Vice President Enterprise Innovation at CIBC, said the initiative will play a greater in boosting consumers expectations for privacy and trust.
This trust is something many enterprises have lost over the years as they have foolishly dumped data everywhere.
Lionel Pimpin, Senior VP, Digital Channels at the National Bank of Canada said the SecureKey solution aligns with their bank's commitment to providing a simple and unified digital experience.
Katie Greenberg, Vice President, Digital Products and Retail Payments at Scotiabank, called using the blockchain tech a new era in which Canadians can clearly and confidently assert when, why and with whom their digital identity assets are shared.
"We are eager to offer this solution to our customers and look forward to setting the gold standard of digital identity worldwide," said Greenberg.
SecureKey is also working with some other key partners to provide their digital identity tech. These includ some important names such as the U.S. Department of Homeland Security Science and Technology Directorate (DHS S&T), Equifax, IBM and many more.
Verified.Me is built on top of the IBM Blockchain Platform which is based on Linux Foundation's open source Hyperledger Fabric v1.2 and will be interoperable with Hyperledger Indy projects.
The Verified.Me app is currenty available on both iOS and Android phones.
It is good to know key financial services firms are heading down a new path of better data security. Next step is Open Banking.