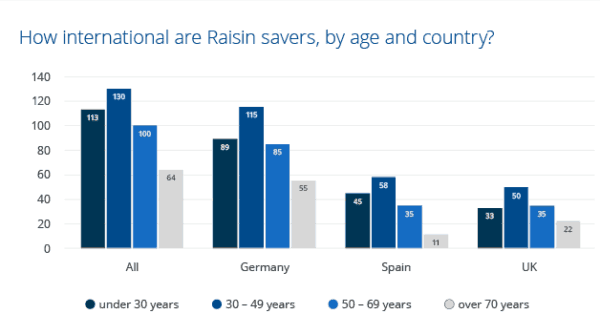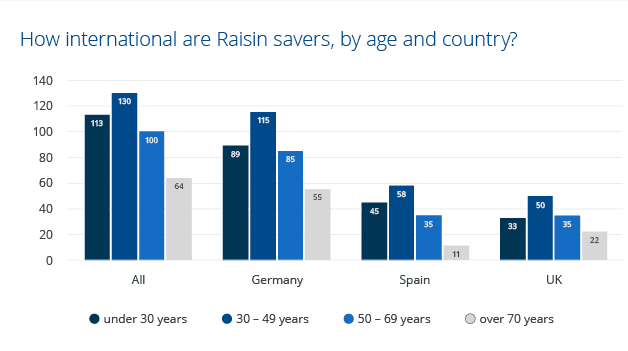 Raisin, a Fintech that enables consumers to discover higher interest rates for their savings account, has analyzed European savings behavior in honor of Europe Day. More specifically, Raisin reviewed the UK, Spain, and Germany.
Regarding Germany, Raisin's largest market and their home base, the country exhibits significant national diversity but lacks gender balance. The data is derived from Raisin's German platform Weltsparen which claims customers from 115 different countries of origin. This diversity is said to decrease the older the customer segment.
Regardless of age, two out of three WeltSparen customers are men.
Raisin notes that Germany continues to struggle with the third-highest pay gap in Europe between men and women.
According to their survey, the 50- to 70-year-old group of Raisin customers in Germany earns the greatest bulk of the profits with 55.8% of the total interest WeltSparen has paid out.
In Spain, Raisin sees younger than average customers earning most of the profits. Compared to Raisin's pan-European average, the platform's Spanish customers are ahead on actively seeking competitive interest rates earlier in their careers as savers: 30- to 50-year-olds in Spain, who use their platform not only represent the largest customer segment but also take home the lion's share of the profits, with almost 50% of the total interest earned through Raisin deposits in Spain.
Raisin Spain's customers tend to save more later, with on average 56.5% of the earned interest going to 50 to 70 year olds. So Spain's younger savers suggest an interesting trend.
Gender parity among Spanish customers increases with age, with women as only 22% of under-30 savers but 43% of over-70's.
Spanish women using Raisin are approaching an equal portion per population, by retirement age. In contrast to gender diversity, however, the older the customer segment, the fewer nationalities they represent: Raisin Spain's 30- to 50-year-old savers come from 58 different countries, 50- to 70-year-olds from 35 countries and over 70's from just 11 nations.
The UK is different with customers on average representing a narrower age range (meaning a lot fewer savers under 30 and over 70). Raisin UK customers in the 50 to 70-year-old segment, the largest group of UK savers, come from 33 different countries and 46% — nearly half — are women.
Similarly to Spanish customers, the younger the UK saver, the more likely they are to represent national diversity. The UK's 30 to 50 year-olds come from 50 different nations while the over 70 group from just 22 countries.
Raisin says the analysis reflects the ways that saving behavior varies from country to country through Europe and is influenced by individual demographic factors. It also demonstrates the openness of European savers for saving marketplaces with better interest rates.
Raisin currently claims approximately 175,000 customers who live in 31 different European countries and represent 150 nationalities.
To honor Europe Day, Raisin has taken a closer look at its own pan-European savers, particularly by age and gender, and how these savers are faring across the continent. We zoomed in on three markets in particular where we noticed striking alignments or differences from our Europe-wide mean, Spain, Germany, and the UK.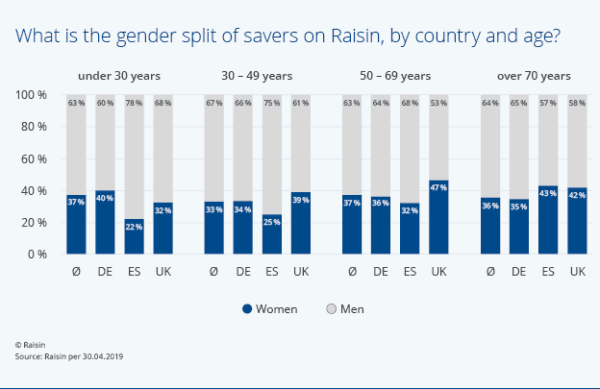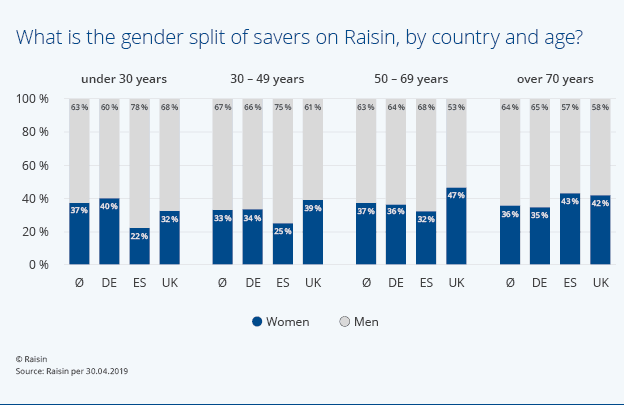 Sponsored