France is becoming a hotbed of crypto innovation. The French government will soon finalize law that will create a regulated path for initial coin offerings that issue utility tokens (ie not securities).  Policy movement like this is only possible with the explicit support of public officials and current French Central Bank Governor, Francois Villeroy de Galhau, has recently made some interesting comments on crypto.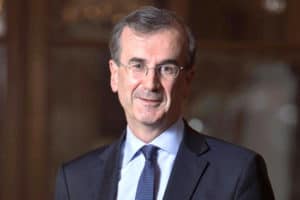 In a report by Bloomberg, Villeroy de Galhau said
"The Bank of France is "observing with great interest initiatives in the private sector which aim at developing networks within which 'stablecoins' would be used in transactions involving 'tokenized' securities or goods and services," Villeroy said in Paris. "These are quite different from speculative assets like Bitcoins, and more promising.""
A statement like this takes on even more importance as Villeroy de Galhau is the leading contender to replace Mario Draghi at the European Central Bank.
According to a recent poll of Economist, Villeroy de Galhau is currently the top pick to take over the powerful ECB.
Stablecoins can come in many different iterations. In brief, a typical stablecoin is tied to a fiat currency or another tangible asset. While there are "algorithmic" stablecoins, the ones capturing the most interest are tied to the dollar or the euro, etc. While providing a streamlined onboarding process for individuals interested in crypto, stablecoins also can provide a place to park value without worrying about excessive volatility. The concept has caught enough attention that big banks, like JP Morgan and their JPMCoin, are taking a serious look at the digital asset.
Regarding tokenization, this is really about the digitization of assets including securities, a process that is inevitable.
French bank Societe Generale, the third largest bank in France and one of the largest banks in the world, recently issued a covered bond ("obligations de financement de l'habitat" or "OFH") for a total amount of €100 million using the Ethereum blockchain. The security token was rated Aaa / AAA by Moody's and Fitch. This "security token" issuance was fully subscribed.
Once the Loi Pacte (Pacte Law) kicks in, issuers in France will be able to offer true utility tokens which are tradable but not considered securities. In Fintech, France has become a country to watch.