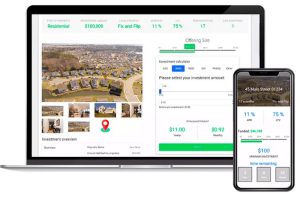 OpenLTV is a new platform that seeks to offer investors access to secured real estate debt in tokenized form. Investors may participate in the offering either with fiat or crypto via a partnership with Paxos.
According to a release from OpenLTV, qualified investors can earn passive income by investing in fractional debt secured by real estate in the US. Predicted returns are estimated to be around 8 to 12% annually.
OpenLTV is available to accredited investors in the US under Reg D 506 (b) and to investors in other countries under Reg S and applicable local regulations.
The company states that it requires some "skin in the game" from each originator. Typically, the Loan To Value is said to be 75% or less, and Loan To Cost is 90% or less.
OpenLTV said it will issue its securities on the Ethereum blockchain in the form of a security token and will enable secondary trading on a yet undisclosed marketplace.
Kirill Bensonoff, CEO of OpenLTV, expects his platform to tap into a global pool of investors and unused crypto-asset liquidity:
"We are thrilled to be partnering with the Paxos team to bring a long-standing and secure investment option in the real estate industry to the financial future."
Bensonoff previously launched an initial coin offering based out of the Cayman Island's which was a target of Massachusetts authorities. The legal inquiry has since been resolved, according to Bensonoff (see update below).
According to the website, OpenLTV will launch at some point this summer.
---
Update: In referencing the prior administrative action by the State of Massachusetts, Bensonoff provided a statement regarding the resolution of the case. We have republished his statement in its entirety below.

"While it's understandable that your research as a member of the media uncovers the initial claims in early 2018 against my business (referring to administrative charges filed by the State of Massachusetts against myself and Caviar, a 2017-2019 cryptocurrency startup that invested in other cryptocurrencies and real-estate debt), what's equally and fairly important in my view is to cover the other side of the story: the fact that the case has been resolved.

The initial charges of the claim were that we raised funds outside the US and did not open our token sale to US residents. We worked every step of the way in compliance and good faith to resolve the civil suit with the State of Massachusetts, the state where I live, for allegedly not doing enough to protect investors in MA from accessing the token sale. We felt we were doing enough, we had hired Identity Mind Global, one of the top compliance companies in the space, and had a second level of compliance verification on top of that. If this had happened in any other industry, this would have not been scrutinized by the regulator.

At the time when the story broke, it was covered in this Boston Globe article. Late 2017 and early 2018 represented a very turbulent period for the then-nascent status of the blockchain industry. State and federal regulators were and continue to try to figure out exactly how to classify cryptocurrency and ICOs, and many crypto startups are struggling with the ever-changing interpretations of regulations. We happened to be one of those startups.

Caviar was one of numerous businesses I've built; several of which had multi-million dollar exits (Unigma and ComputerSupport.com) as a veteran entrepreneur in Boston where I've worked for my entire career, volunteered, built communities and mentored aspiring entrepreneurs.

In the spirit of entrepreneurship, I entered this rapidly growing space in 2017 because I saw the potential, much like Henry Ford did when he began Ford Motor Company. Automobiles were new and they scared a lot of people, and required many laws and regulations to adapt in order to fit an innovative technology.

Cryptocurrency and blockchain are no different than the automobile, light-bulb, or thousands of other innovations that have forced significant change. Blockchain technologies give humanity new ways to record data, raise money, start businesses, send value and convey trust. There are going to be hundreds of new use cases, from recording home titles to marrying and divorcing people, immutable and written to decentralized ledgers."

Sponsored Links by DQ Promote