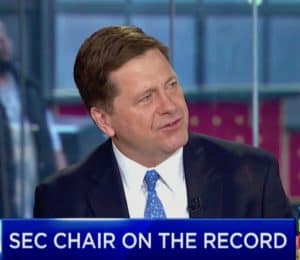 The SEC has voted to implement a new rule compelling securities broker-dealers to act in clients' best interests.
SEC Chairperson Jay Clayton spoke about the new rule, as well as the SEC's treatment of cryptocurrencies, in a televised interview for CNBC's Squawk Box program June 6th. 
"We're raising the standard of conduct for broker-dealers…we're covering more of the advice spectrum…" he said, including the type of advice given when a client moves funds between "account types," such as moving a 401K into a different style of account.
As well, said Clayton, under the new rules, "If you're a broker-dealer or an investment advisor, you've got to tell people how you make your money."
The previous rule set, he said, "…wasn't clear enough…"
Clayton then defined fiduciary duty generally as "a combination of care and loyalty…and you can't put your interests ahead of (client) interests."
CNBC panelist Kevin O'Leary said that as a "participant in financial services," his highest rising costs are in compliance. He then asked Clayton, "Are you stifling innovation a little bit in the broker-dealer space by making it so expensive to stay alive?"
"No," said Clayton.
"No," he repeated. "I think what investors need to know is how much of their money is going to work for them…put it on two pages…(or) less four pages (if doing both functions)…tell people how you make your money, tell them what your conflicts are, and they can make informed choices…"
Clayton cited statistics indicating that competition in financial services is putting more money into investors' pockets
Clayton also said the SEC is "engaging on" the matter of cryptocurrency derivatives products, such as ETFs, but, "…there's a couple things we need to feel comfortable on."
More than a dozen proposals for rule changes to allow the selling of Bitcoin-based ETFs have been submitted at the SEC, but none have so far been approved.
"One (of the issues of concern for the SEC) is custody," said Clayton.

"If you say you have something, you really have it. When we get into the retail space, custody is important…" he said.
Secure storage of "crypto assets" has been an issue to date, and crypto investment firms like Bakkt are working hard to solve the problem.
Cryptocurrencies/digital tokens are comprised of code, and that code can be accessed by hackers.
According to anonymous blogger "Neuron," more than $15 billion USD in cryptocurrencies/tokens have been stolen from cryptocurrency exchanges since the invention of Bitcoin.
As well, "stablecoin" company Tether is now in hot water with the New York Attorney General for loaning its reserves to sister company Bitfinex.
Earlier this year, Bitfinex experienced a liquidity crunch after $850 million USD of the exchange's funds were seized by officials in Panama on behalf of several foreign governments.
Clayton told CNBC panelists that cryptocurrencies have been marketed to resemble stocks, but the trading of them is not as regulated as it is in conventional securities markets.
"We have sophisticated rules and surveillance to make sure that people are not manipulating the stock market. Those cryptocurrency markets by-and-large do not have that. And we're working hard on that. But I'm not just gonna flip a switch and say it's just like stocks and bonds. Cuz it's not."
He ended by stating that SEC rules have made US capital markets the strongest and most envied in the world.
---
Watch CNBC's full interview with SEC Chairman Jay Clayton from CNBC.
---
Sponsored Links by DQ Promote