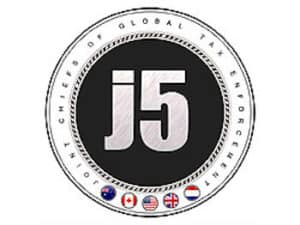 Tax officials from Australia, the US, Britain, the Netherlands, and Canada have formed a "J5" collaborative group now investigating 60 "lines of inquiry" regarding international tax evasion using cryptocurrencies, The Sydney Morning Herald (SMH) reports.
"The J5 was formed a year ago because of growing concern that tax avoidance, cybercrime, and cryptocurrency abuse were escalating as criminals exploited differences between national tax laws," SMH writes.
According to the outlet, since the J5 was formed, participants have shared more data than they did the previous decade.
According to the Will Day, Deputy Commissioner of the Australian Tax Authority (ATO), the ATO is now directly involved in approximately one dozen J5 investigations, at least one of which is focussing on a "global financial institution (and intermediaries)" enabling clients to hide assets and income.
SMH also paraphrased Day as stating that the ATO possesses, "
…clear evidence of people based in Australia who were facilitating the avoidance of tax or partnering with others in overseas jurisdictions in criminal activity."
The volumes of data being shared by the J5 are yielding straight up evidence of crime, with intermediaries also being implicated, Day stated:
"At no other time have criminals been at greater risk of being caught…In Australia, they are often intermediaries who are playing a role between the tax evader and an offshore entity."
Day added that tax evasion using cryptocurrencies is, "not a victimless crime…At the Australian level, there is definitely legitimate use for investment in cryptocurrencies, but we're also seeing the use of them to facilitate tax crimes."
The
SMH
article also refers to the recent shut down of
Bestmixer.io
, "one of the three largest mixing services for cryptocurrencies," by authorities in the Netherlands and Luxembourg.
Cryptocurrency "tumbling" or "mixing" services allow users to pool or "mix" their cryptocurrencies with those of other parties and then withdraw equivalent sums for a fee.
That "mixing" process, the services claim, reduces the traceability of cryptocurrencies.
The recent press release from Europol regarding the shut down of Bestmixer, however, states that Dutch authorities have in fact been gathering detailed intelligence about Bestmixer users for almost the entire history of the service, intelligence it will now analyze and furnish to other law enforcement:
"The Dutch FIOD has gathered information on all the interactions on this platform in the past year. This includes IP-addresses, transaction details, bitcoin addresses and chat messages. This information will now be analysed by the FIOD in cooperation with Europol and intelligence packages will be shared with other countries."
Sponsored Links by DQ Promote