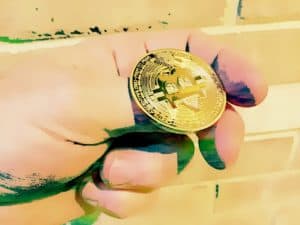 Legendary Bitcoin boy millionaire Erik Finman is building a cryptocurrency investment platform he hopes will make cryptocurrency trading "more tangible and tactile" for the average person.
"A huge factor preventing bitcoin from going into a bull run is its difficulty to buy. It's not uncommon to hear about someone going to an exchange and never completing the transaction after experiencing just some of the mandatory steps," said Finman in an interview this week with MarketWatch.
Finman made a name for himself after investing a $1000 gift from his Grandma received for his 12th birthday into Bitcoin and turning it into millions before he turned 18.
Finman's platform, CoinBits, will reportedly, "….automatically round up credit/debit-card purchases to the nearest dollar and invest the difference in bitcoin on the user's behalf."
According to MarketWatch the model at Coinbits is, "…similar to one used by some bricks-and-mortar banks; and…platforms like micro-investment apps Acorns Grow Inc., and Stash, to facilitate investing and saving (often among younger users)."
Finman's goal is to attract a million users in a year, mainly via social media campaign. "I really think a million users within a year is realistic…Completely, nontraditional is the only way to do it," he said.
Simple is the way to go, said Finman:
"I think so many people have attempted to make bitcoin simple but I don't feel like anyone has fully achieved that yet,"
Finman, now 20, is fond of bold pronouncements.
In May of this year, he joined the chorus of crypto investors proclaiming the end of "Crypto Winter."
"If you're not a billionaire (in 10 years)…it's your own fault," Finman said in mid-May of this year, referring to people unwilling to get into crypto and hang on no matter what.
Finman also famously declared Bitcoin 'dead' in December 2018, when  most cryptos were trading 95% below all-time-high prices achieved just one year earlier:
"Bitcoin is dead, it's too fragmented, there's tons of infighting I just don't think it will last…It may have a bull market or two left in it, but long-term, its dead."
In the same interview, the "teen tycoon" offered a similarly morbid prediction for Litecoin:
"Litecoin has been dead for a while…It's like when the sun is going down and there's that eight minute period just before it goes dark. Litecoin is in its seventh minute."
Finman's customers will nonetheless have the chance to have a go at the last few crypto bull runs at CoinBits, where investing in "dead" Bitcoins will apparently be available.
In December, Finman declared himself a good candidate for the saving of crypto:
"I'm better at this kind of stuff than those (crypto) millionaires…They don't know how to work the system, they're nerds. I'm more than that."