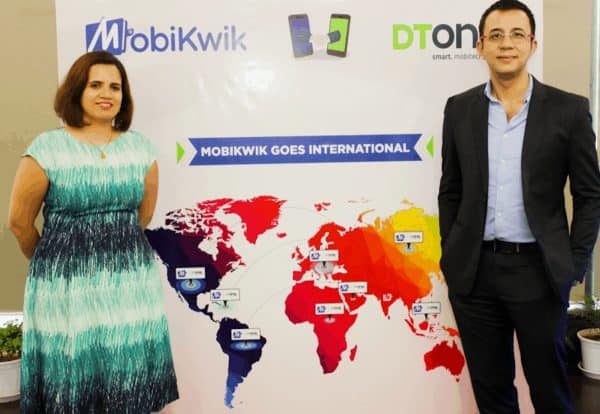 MobiKwik has partnered with DT One (formerly TransferTo) to expand internationally. MobiKwik is an India-based Fintech in the payments space. DT One One is a global B2B network for "mobile top-ups/recharge, rewards and airtime credit services."
Indian users will now be able to add money to a mobile number across DT One's network of 150+ countries and over 550 mobile operators.
MobiKwik says their new partnership with DT One will have a profound impact on immigrants and workers in India, and students studying overseas to stay connected.
The "International Recharge" service on the MobiKwik app is currently live across 150+ countries in the Middle East, Asia Pacific, Europe, Africa, United States, Latin America and Carribean enabling users to recharge a mobile number across DT One's global networkof over 550 operators.
India is one of the world's top destinations for international migrants. According to data from Pew Research Center for 2015, nearly 5.2 million immigrants live in India, making it the 12th-largest immigrant population in the world.
MobiKwik states that an estimated 17 million Indians were living abroad in 2017, making India the largest source country for international migrants globally.
Upasana Taku, Co-founder, MobiKwik, said they are constantly looking at adding value for our customers even if it is as simple as mobile recharge back home for people coming to India for work or for studies.
"This new feature will enable millions – immigrants in India from across the globe, students studying abroad and even frequent travellers the power of connectivity at their finger tips via the new feature on the MobiKwik app. With this powerful collaboration with DT One, we promise to deliver at a greater scale to our customers. This launch is in line with our future growth and expansion plans in the domestic as well as international markets and making most of the services on a single platform."
MobiKwik says it is the first Indian owned company to have successfully launched and enrolled customers under its full stack of financial services – digital payments, lending, insurance, investments in MF and gold and payment gateway. It's user base comprises over 107 Mn users, 3 million merchants, and 200+ billers. Growing at an accelerating pace, MobiKwik expects to enroll at least 10 million users by FY 2020 to avail at least 3 financial services on the MobiKwik platform.

Founded in 2009 by Bipin Preet Singh and Upasana Taku, MobiKwik has raised approximately $120 million from big-name investors like Sequoia Capital, American Express, and Net1.

About DT One

DT One (previously TransferTo) operates a global network for mobile top-up, innovative mobile rewards and airtime credit services.

They help over five billion people across emerging economies to have greater access to digital communications, stay better connected and as a result, participate more actively in the global economy. Their global network interconnects more than 550 mobile operators across 160 countries and delivers smarter data-driven mobile solutions to ensure that no one is left unconnected.

Founded in 2005, the DT One team is headquartered in Singapore with regional offices in Dubai, Miami, London and Nairobi. For more information visit www.DTOne.com

Sponsored Links by DQ Promote