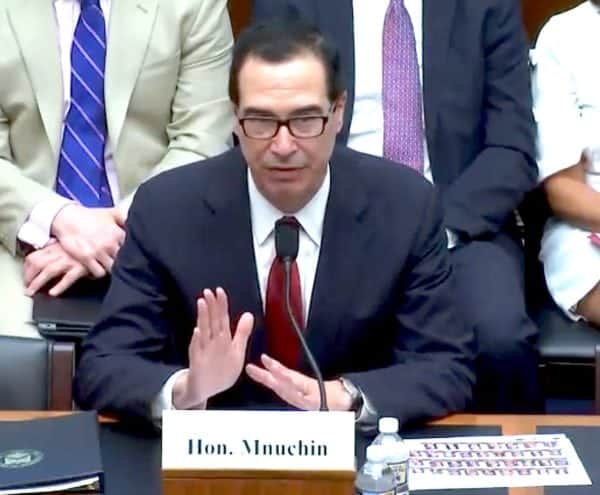 Last week, FATF President Marshall Billingslea of the US, chaired the Plenary meeting under the U.S. Presidency in Orlando.  US Secretary of Treasury Steven T. Mnuchin was on hand to provide remarks on the accomplishments of the group.
As part of his speech at the meeting, Mnuchin commented on the guidelines issued designed to curtail illicit activity in the cryptocurrency sector. The new rules impact "Virtual Asset Service Providers" or VASPs. As the FATF rules stand now, any transfer of $1000/€1000 in crypto must include the full spectrum of information surrounding the transaction and be maintained for years by providers.
Secretary Mnuchin had this to say:
One of the most valuable contributions of this plenary is the regulation of all virtual assets, especially cryptocurrencies.  I commend efforts by the FATF to address the growing misuse of cryptocurrencies and other virtual assets by money launderers, terrorist financiers, and other illicit actors.  I am proud to note that under the co-chairmanship of Spain and Singapore, you have delivered on the ambitious goal of addressing these risks in a number of ways.
The Interpretive Note adopted this week includes virtual asset standards that are binding to all countries.  By issuing updated guidance, the FATF is enhancing financial transparency and setting expectations.  This will enforce a level playing field for virtual asset service providers, including cryptocurrency providers, and traditional financial institutions.
Under these new measures, virtual asset service providers will be required to implement the same AML/CFT requirements as traditional financial institutions.  They will need to:
Identify who they are sending funds on behalf of, and who is the recipient of those funds;
Develop processes where they are required to share that information with other providers of virtual assets, and law enforcement;
Know their customers and conduct proper due diligence to ensure they are not engaging in illicit activity; and,
Develop risk-based programs that account for the risks in their particular type of business.
By adopting the standards and guidelines agreed to this week, the FATF will make sure that virtual asset service providers do not operate in the dark shadows. This will enable the emerging FinTech sector to stay one-step ahead of rogue regimes and sympathizers of illicit causes searching for avenues to raise and transfer funds without detection.
Mnuchin said they will not allow cryptocurrency to "become the equivalent of secret numbered accounts."
He said they will allow for "proper use" but they will not tolerate illicit activity.
Mnuchin said he as working with the US Federal Reserve and other regulators to make certain digital assets are used for legitimate uses only.
"We must work together to ensure that virtual assets are no longer a safe haven for illicit actors to end-run around established AML/CFT safeguards," said Mnuchin.
Mnuchin stated his support of innovation in financial services but cautioned on the potential for abuse.
"That is why the United States has in place a comprehensive AML/CFT framework for regulating, supervising, and taking enforcement actions relating to virtual currency and other digital assets."
He described the new rules as exactly the same as what other financial service providers must adhere to:
"…service providers must register with FinCEN.  They must also institute an AML program, and recordkeeping and reporting measures, including filing suspicious activity reports."
While Mnuchin is clearly pleased with the results, many crypto industry advocates have raised the concern that the outlined approach will undermine innovation in the sector.

Sponsored Links by DQ Promote