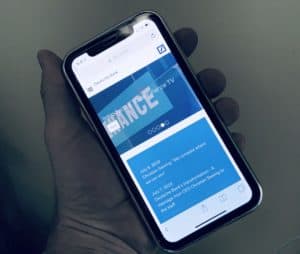 Deutsche Bank (XETRA: DBKGn.DB / NYSE: DB) finally announced its plan to dig itself out of its financial hole this past week. Deutsche Bank's plan entailed a significant downsizing with a workforce reduction of approximately 18,000 full-time equivalent employees to around 74,000 employees by 2022.
Deutsche Bank has been in rentrenchment mode for years now. Back in 2016, the bank cut a deal to close a quarter of its bank branches in its home market of Germany – at that time this meant 200 physical locations.
A recent article in NYT, called the retail business a "financial drag" as profit margins were "slim or non-existent." Brick and mortar locations continue to diminish in importance while the cost remains.
The equity division at Deutsche Bank was shut down completely forcing out hundreds of employees.
Paul Achleitner, Chairman of the Supervisory Board of Deutsche Bank, commented on the plan:
"This fundamental transformation is the right response to the major changes and challenges in the financial industry. Deutsche Bank has been through a difficult period over the past decade, but with this new strategy in place we now have every reason to look forward with confidence and optimism. We have a talented and dedicated team at the helm to relentlessly execute what we promise today and to create a sustainably profitable bank. Our shareholders have supported our bank's restructuring for years and that's why a substantial return of capital over time is an important part of our new strategy."
Christian Sewing, CEO of Deutsche Bank, said they are determined to generate long-term, sustainable returns and "restore the reputation of Deutsche Bank."
But buried in the announcement and cacophony of commentary was the fact that Deutsche Bank is doubling down on tech, or Fintech, and innovation.
Deutsche Bank's plan includes the following:
"To reshape and improve its long-term competitive position, the bank will undertake a restructuring of its infrastructure functions, which include back office systems and processes that support all business divisions. These functions will become leaner, more innovative and more digital.
A separate Technology function will be created which will have responsibility to further optimize Deutsche Bank's IT infrastructure. It will also drive the digitalisation of all businesses. This is set to boost innovation as well as further strengthen the internal control environment. The bank will make targeted investments in technology and innovation, utilising a budget of 13 billion euros by 2022." [emphasis added]
Deutsche Bank's problems are profound and well-documented. It is hard to point a finger at a single issue or acquisition that has caused the iconic bank to stumble and struggle for years. But it is certain that shifting winds of Fintech innovation have helped to push the bank towards the edge. Competition is fierce and the agile and innovative firms will be the ones that survive. Deutsche Bank has not been known for either characteristic.
But a budget of €13 billion is an enormous sum. Deutsche Bank, in recognizing the tech transformation taking place in financial services, has doubled down on Fintech change. Now, it is all up to execution.