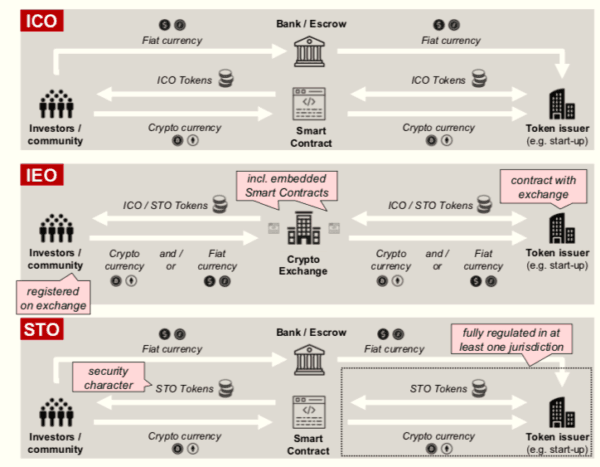 PwC and the Crypto Valley Association have recently published an "ICO/STO Report" covering the first five months of 2019.
According to the report, since the beginning of the year 250 token offerings have raised $3.3 billion.
The largest funding rounds came from Bitfinex at $1 billion and GCBIB $143 million – together accounting for 35% of the funding.
The PwC-Crypto Valley report cites Initial Exchange Offerings (IEO) as a fundamental change. The IEO path "emphasizes a higher degree of institutionalization of large crypto exchanges around the world as cornerstones of the global Crypto Finance infrastructure – and may also be seen as a response to established exchanges moving into crypto."
---
Definition
Initial Coin Offering ("ICO", also token launch or generation) is a term describing a limited period, in which a company sells a predefined number of digital tokens (coins) directly to the public, in exchange for cryptocurrencies or fiat currencies.

Security Token Offering ("STO") is a sale of tokens with features comparable to normal securities, i.e., fully regulated and approved within at least one jurisdiction.

Initial Exchange Offering ("IEO") is an ICO (or STO), which is exclusively conducted on the platform of a cryptocurrency exchange. IEOs are administered by the crypto exchange on behalf of the issuing company, which seeks to raise funds with its newly issued tokens.
---
In comparing past year trends, it looks like the digital asset sector in 2019 may top total raised in 2017 but fall far short from the $19.6 billion raised in 2018.

The report places digital asset issuance as a challenge to traditional venture capital/private equity/IPO path in raising early-stage capital.

While digital asset financing may be robust, the authors note that cybersecurity and AML/KYC remain points of concern. Recent thefts, hacks, and vulnerabilities undermine the sector and heighten the need for more regulation. The FATF guidance will pressure industry participants to assure a greater degree of KYC/AML while national regulators seek to create better guardrails with new rules to foster a compliant ecosystem.

This a great report that provides a wealth of information and a current snapshot of the global digital asset ecosystem in a couple of pages.

The report is available here.

Sponsored Links by DQ Promote