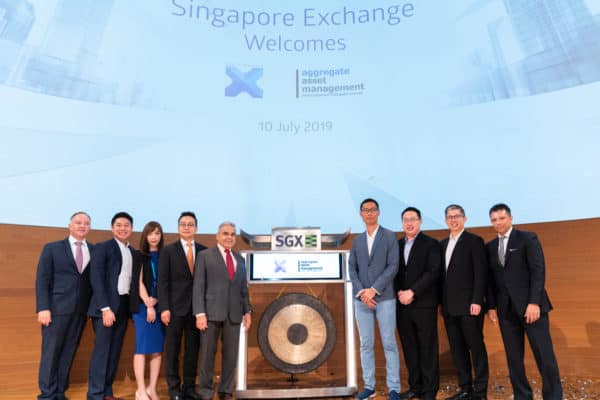 Earlier this month, SGX, "a full-service equities, fixed income, derivatives, commodities, and foreign currency exchange," welcomed 1exchange, the country's first licensed private securities exchange for accredited investors.
According to Investopedia, SGX formed when the Singapore Stock Exchange, the Singapore International Monetary Exchange and Securities Clearing and Computer Services Pte merged in 1999.
The 1X platform is built on the Ethereum mainnet, a "public blockchain" hosted on the Internet that allows for global trading of "tokenized assets" and 24-7 access to markets.
As part of the launch, "Singapore-based boutique fund management company Aggregate Asset Management" listed its "AAM" token on 1X, which collectively represents, "over SGD 5.6 million worth of tradeable private equities representing approximately 5% of the company's share equity."
SGX and 1X marked the occasion with, "a gong-striking ceremony held in conjunction with SGX's Daily Securities Market Opening in SGX Centre."
The Monetary Authority of Singapore (MAS) also supports the growth of a private market ecosystem. MAS has also committed to allocate USD 5 billion of its own funds to invest in the private markets' asset class.
Choo Haiping, CEO of 1X, said, "1X is grateful for the support of our many stakeholders, including regulators, SGX, our partners in the financial industry, and the companies and investors who continue to believe in our mission to create a dynamic and vibrant private capital market through tradeable private equities."
The 1X (www.1x.exchange), will allow private companies to list up to 30% of their shares, "in the form of tradeable private equities."
Private stock exchanges allow firms to sell partial equity without having to undergo an IPO, which can be prohibitively expensive and not available to smaller-sized firms.
David Kuo, CEO of the Motley Fool Singapore, and Robson Lee, a partner at law firm Gibson Dunn in Singapore told Channel News Asia that private stock exchange listings could be used to allow an accredited investor to own a piece of their favourite restaurant, for instance.
Kuo and Lee also reportedly, "agreed that there is a fair amount of risk involved when investing on private stock exchanges."
According to Lee, "Such companies in a private stock market will not be subjected to the disclosure regime that applies to all publicly listed companies.
For example, private firms on private exchanges do not have to submit quarterly financials.
This lack of transparency can be very meaningful, said Lee:
"They would not have safeguards like audit committees for example, which are imposed by the listing rules of a stock market. The lack of timely disclosure obligation could be a huge risk factor for investors who would want to enter into such investment transactions."
Kuo argued that the lack of disclosure is particularly risky when it comes to determining whether a startup is financially sustainable.
"The statistics for startup companies is not really that great," he said.  "Nine out of ten of them will fail, so out of ten companies you might put money in, only one will succeed. If you like those kind of odds, then this kind of platform is probably good for you."
It should be noted that SGX Senior Vice President and Head of Equity Capital Markets, Mohamed Nasser Ismail, says his exchange "recognizes that companies in an earlier growth stage may need access to capital before they are ready for a public listing. (However) We supported 1exchange to create a virtuous ecosystem of capital flow catering to companies in the mid-late stages of growth."
The decision to list more mature companies may help mitigate risk at 1X.
In a recent press release, 1X contends that Private Equity, or investing in private companies and assets, is a proven asset class with a long history of outperforming public markets. This difference becomes larger at longer investment periods. [1] (See Figure 1)."
Sponsored Links by DQ Promote