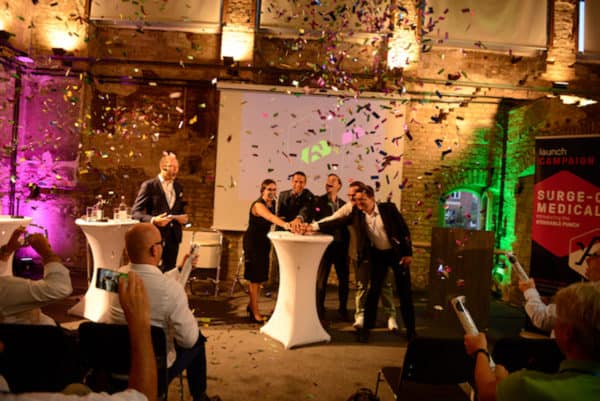 Germany based investment crowdfunding platform aescuvest has kicked off pan-European securities offerings with Surge On Medical. The Dutch Medtech has developed technology aimed at setting new standards in precision and robotic surgery. Surge-On seeks to raise up to €5 million on aescuvest. A launch event, dedicated to the aim of "Scaling and Driving Digital Health Innovation in Europe to the Next Level," was recently held at Berlin's Charité Museum of Medical History
Surge-on Medical has obtained four international patents, according to aescuvest. These patents are said to represent a major advance in minimally invasive instruments, improving existing surgical techniques and making them more efficient. Surge-On is developing remote-controlled robotics in precision surgery. The modular and reusable instruments are said to be ready to be connected to robots, as validated for a US surgery robot builder.
Surge-On is pursuing a prospectus based security offering. €5 million represents 12.74% ownership in the firm. Investments will be bundled in an SPV (special purpose vehicle), that will become one shareholder of the company and as such will fully participate in the value development of Surge-on Medical.
"The proceeds of the funding shall be used to accelerate the scaling of Surge-on Medical," commented Benno Groosman, CEO and co-founder of Surge-On. "The company has already sold demos at the full target price and many distributors are ready to add our products to their portfolio. With our competitively priced and easy to use platform technology we will make precision and robotic surgery available to a broad range of users."
aescuvest states that this campaign for Surge-on Medical marks the start of a "new way of public venture funding in Europe."
For the first time, a cross border crowdfunding campaign, based on a prospectus-approved securities offering, will enable private investors to invest online alongside with business angels and venture capitalists to benefit from the growth potential of early-stage growth companies.
Dr. Patrick Pfeffer, CEO & founder of aescuvest, explained their ambition as being not to stop public funding of healthcare ventures at national borders.
"After the successful launch of the Surge-on Medical funding, we are looking forward to soon be able to present a series of exciting health innovators from all over Europe on aescuvest.eu."
Jan-Philipp Beck, CEO of EIT Health added:
"The goal of EIT Health is to contribute to a stronger health ecosystem in Europe. We want to create a fertile environment for growth and innovation. Health innovation and entrepreneurship ultimately benefit the health economy and citizens. By bringing innovative ideas to market, we also help create new jobs. The cooperation with aescuvest.eu is a cornerstone for our mission, to support the most promising start-up companies out of our network to scale-up their business by a funding that is combined with a high visibility in the market, and thus to help European entrepreneurs to increase their global competitiveness."
aescuvest is open to companies from across the EU with initial funding focusing on Austria, Denmark, Germany, the Netherlands, Sweden, and the U.K.
aescuvest is the first pan-European crowdfunding platform exclusively dedicated to the health sector. The platform offers retail investors, business angels and VCs opportunities to make entrepreneurial investments.
For start-up companies, it serves as an independent launch pad to finance and market smart ideas, with the potential to directly target up to 550,000 healthcare professionals as well as the general public all over Europe.
Based in the financial hub of Frankfurt,  aescuvest launched as an investment platform for crowdfunding campaigns for Germany in 2015.  In 2018, aescuvest launched the first platform to offer cross-border equity crowdfunding for healthcare companies and investors all over Europe.
Have a crowdfunding offering you'd like to share? Submit an offering for consideration using our Submit a Tip form and we may share it on our site!