Beijing-headquartered mobile technology and software firm Xiaomi has been developing premium smartphones and selling them at competitive prices. Referred to as the "Apple of China," the consumer electronics company recently penetrated India's consumer markets.
Xiaomi's smartphone has become India's most popular mobile device, according to the International Data Corporation's Asia/Pacific Quarterly Mobile Tracker. The Chinese tech firm also recently entered the Fortune Global 500 list.
Xiaomi's services are compared to Apple because of the similarities its products have with the iPhone manufacturer. Both tech firms make phones with a sleek product design and intuitive user interfaces.
However, Xiaomi's global senior vice president Xiang Wang tells CNBC that his company has a unique business strategy.
"I think Apple is a great company, they do a lot of technology innovation. We are doing the same, but our model is different. We want to sell as low as possible, instead of at a premium price."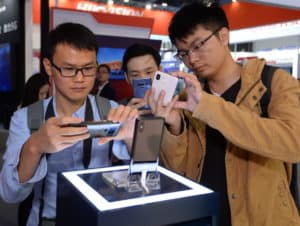 Xiaomi also entered Brazil's technology industry in 2015, and then expanded its business operations into over 80 international markets.
Founded in 2010, the firm has received $3.4 billion in funding. In addition to manufacturing smartphones, the company develops mobile-based applications. 
Xiaomi's business strategy involves targeting the lower-middle market, which has allowed it to gain a fairly large user base.
Xiaomi currently has over 1,000 retail stores located in major cities throughout the world, including London, Dubai, and Mexico City. Approximately 40% of the company's revenue comes from regions located outside mainland China.
Xiaomi's management revealed that the firm has put its US expansion plans on hold due to the ongoing US-China trade tensions. 
Xiaomi's main competitor Huawei is also facing challenges (due to security concerns) as it attempts to enter US markets. 
Wang believes the US is the most important market "for everyone." He notes:
"We are still very, very young. Our challenge — one of the biggest challenges: the resources. [The] US market is very, very different.
So far we are working very hard trying to design a product for the US market but still, resources is the big issue."
Xiaomi's stock has fallen by around 45% after it went public on the Hong Kong Stock Exchange (SEHK) in July 2018.

Late last year, Xiomi expressed its interest in expanding into Fintech. During a speech at Hong Kong Fintech Week, it was reported that Xiomi's co-founder expressed his opinion that Hong Kong would be their center for further expansion into finance.

Sponsored Links by DQ Promote