The planned international scope of Libra requires an internationally coordinated approach.
The Swiss Financial Market Supervisory Authority (FINMA) has published guidelines on treatment of stablecoins under Swiss law. Stablecoins are virtual currencies or cryptocurrencies which attempt to hold a stable value by pegging itself to another asset, such as the US Dollar, or by pegging itself to a basket of assets. Some stablecoins have attempted to use algorithmic methods to hold value.
Earlier this year, Facebook announced the creation of "Libra" a stablecoin to be backed by a basket of assets which were to include various fiat currencies and perhaps other assets. Facebook's plan has received a lukewarm, and at times hostile response from policymakers. Congressional hearings recently held in Washington, DC saw both parties question Facebook's attempt to create a non-sovereign global currency.
The Libra Association asked FINMA for an assessment of how the supervisory authority would classify the planned Libra project #Cryptocurrency #Blockchain
FINMA reports that it has received a request from the Geneva-based Libra Association for an assessment of its Libra project under Swiss supervisory law. FINMA says such requests for a legal assessment or ruling are standard practice, particularly for innovative projects.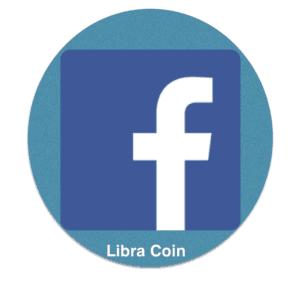 FINMA has provided an "initial indication" of how it would apply the relevant Swiss regulation to stablecoins in a supplement to their previously published regulatory framework for initial coin offerings (ICOs).
FINMA stated that its treatment of stablecoins under supervisory law follows the existing approach taken to blockchain-based tokens: "the focus is on the economic function and the purpose of a token ('substance over form')."
As stablecoins can vary greatly in structure, the supervisory requirements may differ depending on the assets that make up the crypto. FINMA pointed to the possibility of stablecoins to be based on: fiat currencies, commodities, real estate or securities. Money laundering, securities trading, banking, fund management, and financial infrastructure regulation can all be of relevance.
FINMA has provided the following guidance, based on available information. FINMA said the guidance may change over time.
In Switzerland, such a project would fall under financial market infrastructure regulation. The project as it is presently envisaged would require a payment system license from FINMA, on the basis of the Financial Market Infrastructure Act (FMIA).
Regulatory requirements for payment systems in Switzerland are based on the prevailing international standards, particularly the Principles for Financial Market Infrastructures (PFMI). These requirements also apply to the management of cyber risks.
A Swiss payment system is automatically subject to the Anti-Money Laundering Act. The highest international anti-money laundering standards would need to be ensured throughout the entire ecosystem of the project. Such an ecosystem must be immune against elevated money laundering risks.
Under the FMIA, all additional services that increase the risks of a payment system must be subject to corresponding additional requirements. This means that all the potential risks of a Swiss payment system, including bank-like risks, can be addressed by imposing appropriate requirements in line with the maxim 'same risks, same rules'. Due to the issuance of Libra payment tokens, the services planned by the Libra project would clearly go beyond those of a pure payment system and therefore be subject to such additional requirements.
These additional requirements would relate in particular to capital allocation (for credit, market and operational risks), risk concentration and liquidity as well as the management of the Libra reserve.
The additional requirements would be based on recognized standards for similar activities in the financial markets and would need to reflect the dimension of the project. For bank-like risks, for example, bank-like regulatory requirements would apply. A Swiss payment system license would thereby permit a combination of the strengths of banking and infrastructure regulation.
For Libra, a necessary condition for being granted a license as a payment system would be that the returns and risks associated with the management of the reserve were borne entirely by the Libra Association and not by the stablecoin holders.
The planned international scope of the project requires an internationally coordinated approach. In particular, the definition of requirements for managing the reserve, and the governance around it, as well as for combating money laundering should be developed in international coordination.
A possible licensing procedure under Swiss supervisory law would only commence once a specific licensing application were received by FINMA. In accordance with its practice, FINMA would neither provide public information on the status of any ongoing licensing procedure nor speculate on when it may be complete.
FINAM added that other questions raised in the context of the Libra project, such as tax law, competition law, data protection law, go beyond the scope of supervisory law and are therefore outside FINMA's remit.
Swiss Financial Market Supervisory Authority Issues Guidelines on Treatment of #Stablecoins Following Request for Assessment by Libra
---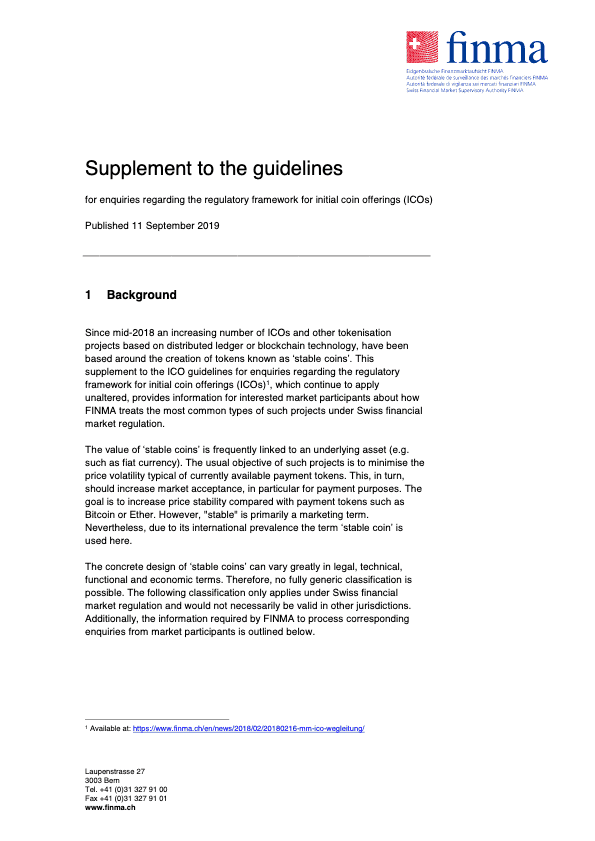 ---
Sponsored Links by DQ Promote