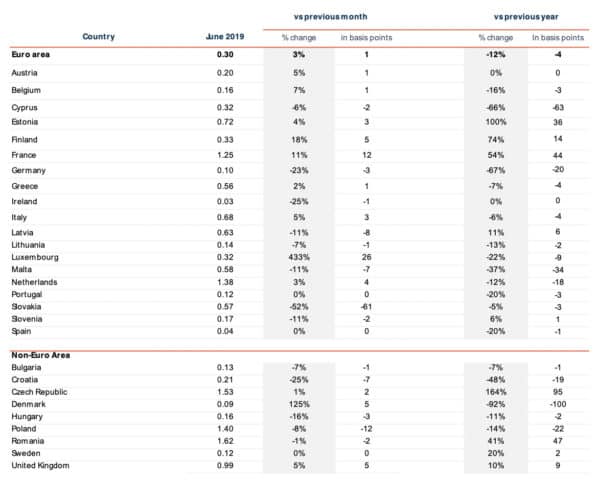 Raisin, a Fintech platform that allows users to find the best savings interest rate regardless of location, has issued a statement on the European Central Bank's (ECB) move to drive rates lower. Raisin, commenting on the EBCs recent rate cut, said that "tensions abroad and at home hinder EU planning [and] pressure spurs talk of recession."
As quantitative easing returns and negative interest rates impact savers, Raisin says more people are looking to Fintechs for solutions.
Dr. Tamaz Georgadze, CEO of Raisin, said his platform is experiencing increasing demand for services.
"[Our platform] enables financial institutions to deliver better rates to their customers, and to avoid penalties by reducing their excess cash — for instance by making our third-party deposit offers available on their own platforms."
Raisin states that Brexit drama and economic uncertainties in Europe are having an impact. The trade ware between China and the US doesn't help.

In the EU's largest economy, Germany, exports are being hit hard by the trade war and there are indications of a coming recession.

"While the ECB extends its negative interest penalties still further, despite mounting concerns about the strategy, the unpredictable political situations both in Britain and between China and the United States present new challenges to long-term planning for European governments," states Raisin.

Regarding retail savings rates, 12 European countries are under 0.2%. Banks, on average, are offering customers less than 0.3% interest.

France and Belgium both continued their upward trends, while Finland, as well as the UK, Romania, Czech Republic and Poland outside the EU zone, all showed significantly higher retail rates than elsewhere in Europe, from 0.99% and up.

Raisin says that both France's and the Netherlands' higher retail rates, at a "notable variance from the rest of Western Europe, represent state subsidies to savings plans and real-estate-related savings respectively, and are thus not actual outliers but, in effect, statistical disturbances."

Germany, after several flat months, has fallen to 0.1% (-20 bps from one year ago), with Ireland, already at the bottom, now even further down at 0.03%, and Spain still hovering at a dismal 0.04%.

Portugal, Belgium, Austria, Slovenia, and Lithuania, plus outside the Eurozone Sweden, Denmark, Hungary, and Bulgaria, are also all under 0.2%.

Slovakia took a big hit dropping -61 basis points, Cyprus extended its decline, and Estonia flattened out again after a recent upward bounce. Luxembourg's rates meanwhile continued on a rollercoaster, up 175% from one month to the next, half a year ago, then down 27%, and now up 26 bps (+433%) in the ECB's most recent data (June).

Sponsored Links by DQ Promote