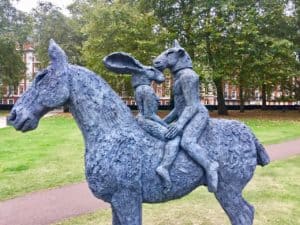 Police from London's Intellectual Property Crime Unit (PIPCU) have arrested a 19-year-old man they believe stole unreleased songs from the websites and cloud-storage accounts of "world-famous artists" and then sold the music for cryptocurrency.
The release does not state where the music was sold nor to whom.
The arrest followed a joint investigation conducted by PIPCU officers and investigators from the Manhattan DA's office.
London and Manhattan police have been working together as part of a secondment program since 2014.
The investigation was triggered in Manhattan after the police there received, "…referrals from the recording artists' management companies, identif(ying) one of the perpetrators."
Search warrants were later executed at a property in North London and another in Ipswich, UK, where the 19-year-old man was arrested, "on suspicion of copyright and computer misuse act offences."
Police say they also found evidence linked to the investigation at the North London property.
Outspoken Manhattan District Attorney Cyrus R. Vance, Jr. had this to say about the arrest:
"As one of the world's leading creative capitals, New York City is dedicated to protecting artists' intellectual property and ensuring that those who steal it face the music. As demonstrated by this investigation, my Office has the expertise, resources, and partnerships to help cybercrime victims reach across the globe to get justice, and we urge anyone who has been a victim of a hack to report it to us at (212) 335-9600."
Vance Jr. added that the Manhattan D.A. and London police's secondment partnership, in which London and Manhattan police are temporally assigned overseas, "…has yielded ten major law enforcement actions, including significant indictments related to securities fraud, art schemes, and cybercrime."
According to the release:
"The secondment facilitates interviews of victims and witnesses, coordinates information sharing and access to overseas records, helps identify victims and targets, establishes lines of communication with other foreign law enforcement offices, and enables the execution of search warrants in the UK."
Personnel from the Manhattan D.A.'s Cybercrime and Identity Theft Bureau, Investigation Division, International Liaison Office and Rackets Division also contributed to the case.

Sponsored Links by DQ Promote