David Marcus, a former PayPal executive now leading Facebook's cryptocurrency project, Libra, has claimed on Twitter that the company's proposed in-app global payments network will not threaten the monetary sovereignty of nations.
The tweet was met with some skepticism, however.
Regulators around the world have been in an uproar since Libra was announced in June.
The Libra proposal immediately incurred flack from regulators in Europe, China, Australia and the United States, where Marcus was invited to testify before American Senate and House committees almost immediately.
Most recently, regulators in France and Germany condemned the project.
Many of the regulators have expressed concerns that the Libra currency network could be used by bad actors to circumvent global anti-money laundering and anti-terrorist finance controls.
All the regulators have warned that the Libra network could upset the global financial balance and interfere with the function of standard local currencies.
Marcus addressed the sovereignty concerns in his recent tweets, and promised that,"new money creation…will strictly remain the province of sovereign Nations."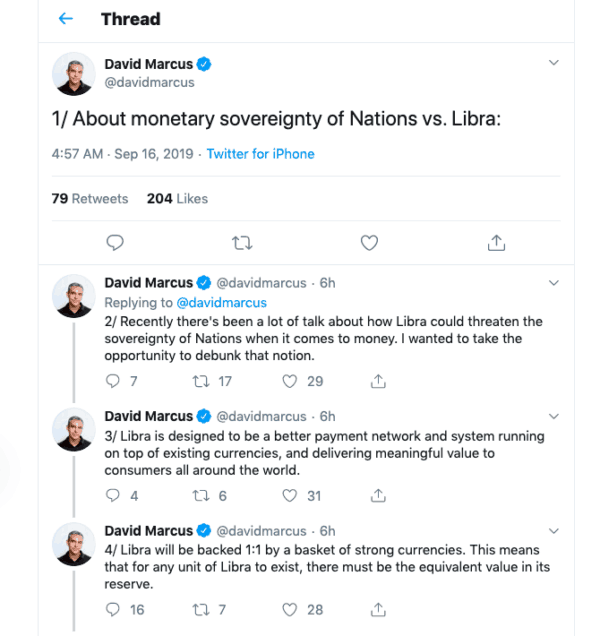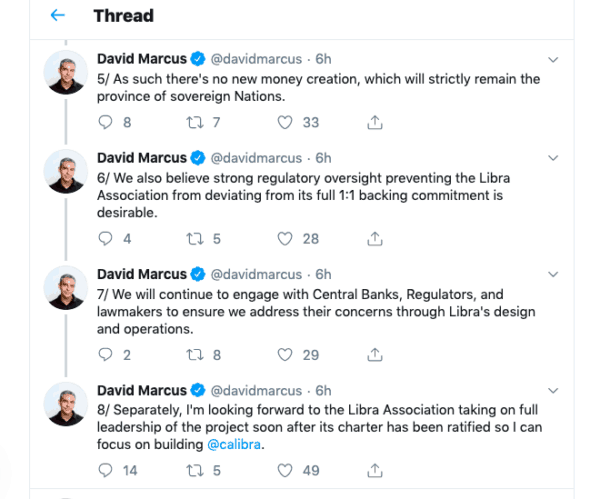 Concerns of several of Marcus's Twitter followers were not entirely assuaged.
Eric Wall replied:
"Just because there isn't new money creation does not mean you can't threaten monetary sovereignty. The Libra could enable a population in a country to abandon their native currency in favor of Libra (when the native currency isn't even a part of the basket)."
Another Marcus follower going by the handle Hasu responded:
"The Libra's fiat reserves are themselves a lever over nation-states. At any time, the Libra Association can threaten to dump one fiat on the market for another, and that is assuming they even want to sustain a reserve ratio."
Another Twitter user suggested Libra coin will function as a financial surveillance tool.
Bertrand Perez, General Director of the Libra Association said last week that Facebook will launch Libra on schedule, in late Q2 2020 to Q4, despite the outcry from global regulators.
"We are firmly maintaining our launch schedule, between the end of the first half of next year and the end of 2020," Perez told online French news site Les Echos.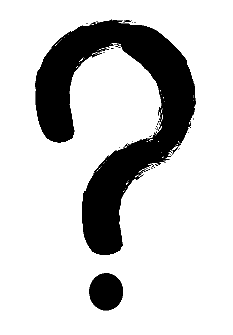 He also said that, "the Renminbi will not be part of," the basket of reserve currencies used to back Libra, which will contain about 50% USD, according to Perez.

This comment is noteworthy.

In July, influential bankers convening at Peking University' expressed serious concerns that a USD-weighted Libra could upset the balance established by the International Monetary Fund's Special Drawing Rights basket, which currently contains about 11% yuan.

Perez'comments may reflect the fact that Facebook intends for Libra to compete with Chinese social/payments apps WeChat and AliPay.

Facebook may also be trying to reassure powerful Western interests by assuring them Libra will favour USD and eschew yuan.

Facebook is officially banned in China, but some citizens access it by using VPNs (virtual private networks).

Sponsored Links by DQ Promote