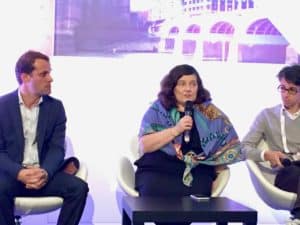 London-based digital bank Starling Bank has introduced a new online banking app that allows its business clients to manage their funds more efficiently, according to a release.
In addition to providing a mobile banking application, Sterling Bank offers a debit card that allows users to manage their finances.
The bank's new launch follows its promise to offer a secure and reliable online banking platform, after receiving a £100m (appr. $124 million) grant from the Capabilities and Innovation Fund. 
The funding will reportedly be used to help the bank compete with other industry players, as it continues to innovate in the business banking sector.
Founder and CEO at Starling Anne Boden stated:
"Customers asked; we delivered. Many small business owners told us they wanted to be able to bank online as well as on their mobiles, as their businesses grow and become more complex."
Boden added:
"By making accounts accessible on laptops and desktops, we're giving our customers even more flexibility to bank the way that best suits them and to get on with doing what they do best: running their businesses."
Meanwhile, Christina Hsieh, a Starling client and founder of CH Simple, a structural engineering firm, noted:
"I love the fact that I can do my business banking on the go. But when I'm not out and about, I want to do my business banking in a different way and now I have that option. It feels more complete."
At present, Starling's online banking service is only being offered to business and sole trader clients. The digital challenger bank is planning to allow personal and joint account holders to access the service in the foreseeable future.

Business customers can access the new app by entering their account and mobile phone numbers on the Starling Bank login page.

Earlier this month, Starling teamed up with Digital Risks and CyberSmart to further expand its Marketplace and introduce new business tools.

Sponsored