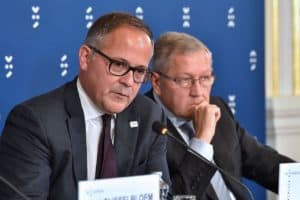 Facebook's stablecoin project Libra might solve some of the problems in the global payments industry, however, it could also create other types of issues that would have to be addressed by regulators, according to Benoit Coeure, a member of the executive board at the European Central Bank (ECB).
Coeure, whose comments came during a session with the German federal parliament Bundestag on September 25, noted:
"Libra has undoubtedly been a wakeup call for central banks and policymakers" and they must respond to the concerns raised by the project.
Coeure, a well-known economist, said that stablecoins such as Libra could potentially connect the 1.7 billion people throughout the world who currently do not have access to modern financial services, while also making cross-border transfers more cost-effective, faster and transparent.
By improving access to financial services and facilitating global retail payments, Libra could address major problems in the existing financial system.
Backed by a consortium of major multinational corporations, the Libra project will have access to a large user base, which will give it a "truly global footprint," Coeure noted.  
Coeure, who's currently the head of the Committee on Payments and Market Infrastructures at the Bank for International Settlements, said that stablecoins could be used to carry out illicit activities such as money laundering and terrorism financing.
As the head of the Group of Seven (G7) Committee on stablecoins, Coeure discussed various other issues, including consumer protection, taxation, competition, data security, network stability.
Coeure mentioned that stablecoins might have a significant impact on monetary policy and financial stability, as they can affect the money supply outside the traditional system. He added that various other issues might be raised if stablecoins fail to maintain their pegs or if there's a loss of confidence in their ability to serve as a medium of exchange.
Coeure also noted:
"There may be the risk of the monetary sovereignty of countries being infringed." 
Although he believes that guidelines can be developed for the new products within the current regulatory framework, he said that new approaches must be developed. He also mentioned that rules must be enforced in an "internationally consistent" manner.

Coeure added that the G7 group on stablecoins would be making recommendations for the upcoming IMF-World Bank meeting (held between October 14-20).

Sponsored Links by DQ Promote