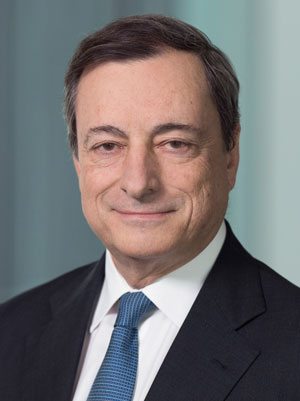 The president of the European Central Bank, Mario Draghi, has proscribed Estonia's plan to issue a state-managed digital currency (or Central Bank Digital Currency – CBDC):
"I will comment on the Estonian decision: no member state can introduce its own currency…The currency of the euro zone is the euro."
Draghi made the comments to reporters at a regular press conference last Thursday, Reuters reports.
Estonia has been working hard in recent years to establish itself as leader of digital banking in the Baltics.
According to Bloomberg, Estonian officials issued 500 licenses to crypto exchanges and 440 licenses to crypto-wallet providers in a single year. Crypto companies like B2BX, and IronX  were recently licensed in Estonia.
Reuters writes that a digital currency for the region seemed suitable given Estonia's other policies:
"Estonia became the first European country to openly discuss the prospect of a digital currency managed by the government and offered to the country's more than 20,000 e-residents – foreign entrepreneurs who open a firm in the country via the web."

"The idea for the 'estcoin' came from Kaspar Korjus, the head of Estonia's e-Residency project. The Tallinn government is now seeking feedback online."
But things have gotten tougher for crypto fintechs even inside Estonia after the country's new government proposed legislation in May to reduce the risk of money laundering.

The new legislation reportedly encompasses the country's cryptocurrency sector as well as regular finance.

If passed in its current form, the legislation, which was sponsored by new Estonian Finance Minister Martin Helme, will require extensive background checks, the establishment of on-the-ground branches and an almost 10-fold increase to the price of financial/crypto business licenses applications in Estonia– from €345 to €3,300.

The new law will also extend the state's allowed period of due diligence for financial firms from one month to three months.

Facebook's recent announcement that it plans to roll out a private currency network called Libra among its network of 2.4 billion users has sent regulators across the globe into a scramble.

The ECB is apparently concerned that privately commanded currency networks could "erode" the ECB's ability to properly manage the euro.

Draghi nixed Estonia's plans to create 'estcoin' on the same day he spoke  to members of the the European Systemic Risk Board (ESRB) about macroprudential policy and systemic risk-mitigation in European financial markets.

Draghi is expected to be replaced by former IMF head Christine Lagarde, a more crypto-friendly official, in November

Sponsored Links by DQ Promote