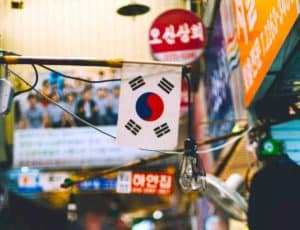 South Korean mobile payments app CHAI and BGF Retail, which manages CU, Korea's largest convenience store chain with around 13,500 locations, are developing a blockchain-based platform for conducting offline payments. 
The nation's consumers will be able to make payments by scanning and completing transactions with CHAI at any CU store, according to a press release shared with CrowdFund Insider.
Established in June 2019, CHAI is powered by Terra and allows bank account holders to pay using a blockchain-enabled platform. 
As explained in the release:
"CHAI provides a seamless payment experience—where users only need to link their bank account to pay—while Terra provides the backend blockchain technology and stablecoin economy. By utilizing Terra's blockchain technology and seigniorage resulting from growth in Terra's stablecoin economy, CHAI is able to offer low transaction fees to merchants and ongoing 5-10% discounts to shoppers. These benefits will also be available for shoppers using CHAI at CU stores."
Terra has reportedly been facilitating CHAI's integration with its eCommerce Alliance, which includes several Asian unicorns such as TMON (eCommerce, Korea), Baemin (Food Delivery, Korea), Carousell (C2C platform, Singapore), and Tiki (eCommerce, Vietnam). 

CHAI has more than 450,000 users. Its platform is integrated with seven major e-commerce service providers.

In addition to offline payments, Terra has been partnering with various organizations and companies to help make its payment network available everywhere in Korea. 

Terra recently announced a partnership with BC Card, Korea's largest payment processor. BC Card and CHAI will provide a prepaid debit card by early next year. The card will allow CHAI to be used on any internet-based and offline retail outlet. 

Terra is planning to grow its alliance by adding new business partners including Bunjang, Korea's largest C2C platform and the nation's music-streaming giant Bugs. 

Sponsored Links by DQ Promote