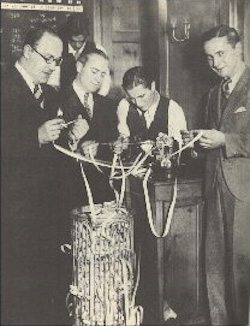 London-based Archax, an institutional digital securities exchange, announced on October 18 that it had teamed up with enterprise blockchain developer R3. The partnership between the two companies involves using R3's Corda Enterprise software to manage post-trade activities on Archax's platform.
Archax provides a globally accessible exchange for professional traders and institutions to trade in different types of digital securities. At present, the company's application to run a multilateral trading facility (MTF) in London is being reviewed by the UK's financial regulator, the Financial Conduct Authority (FCA). 
Archax will use R3's Corda platform to develop its post-trade infrastructure, in order to reduce friction in the trading process.
R3 is currently working with several participants across many different industries operating in the public and private sectors, to help develop their software platforms on Corda and Corda Enterprise. Corda Enterprise leverages the core elements of Corda so that companies can set up their operations quickly and efficiently. 
The company's software has been developed specifically for regulated environments with specific and strict requirements regarding the quality of service and network infrastructure. Archax will be using Corda Enterprise's private version within its platform to manage post-trade activities.
CEO of Archax Graham Rodford stated:
"Our existing systems and partnerships with firms like Aquis, provide the core functionality for our exchange. R3, with its Corda product, provides the final piece of the puzzle on which we can build a truly revolutionary post-trade solution. Although Archax is blockchain agnostic for digital security issuances, we needed an institutional-grade system for our own post-trade use." 
Rodford added:
"R3's permissioned blockchain solution is already used by leading blue-chip organisations so fits the bill perfectly. This partnership will deliver the blockchain efficiency gains for financial markets that are so often talked about, and we believe will be the first of its kind."
Rodford also pointed out:
"The current post-trade process in traditional financial markets is hugely inefficient, with many intermediaries involved. This partnership between R3 and Archax will enable us to revolutionise the current post-trade space, removing friction and streamlining activities to improve efficiency and reduce cost."
CRO at R3 Catherine Minter noted:
"Working alongside the world's leading financial institutions, R3 made a conscious decision to leverage blockchain technology to solve real business problems in both complex and highly regulated markets. Representing assets as tokens on a blockchain platform is one of the most impactful applications of the technology and a key focus for R3, too." 
Minter also mentioned:
"Archax, with its experienced team and base in London, is building one of the most credible venues for these tokens and will play a key role in driving institutional adoption. As such, our Corda Enterprise platform is ideally-suited for this project, and we look forward to working together to disrupt and revolutionise how financial markets operate."
Sponsored