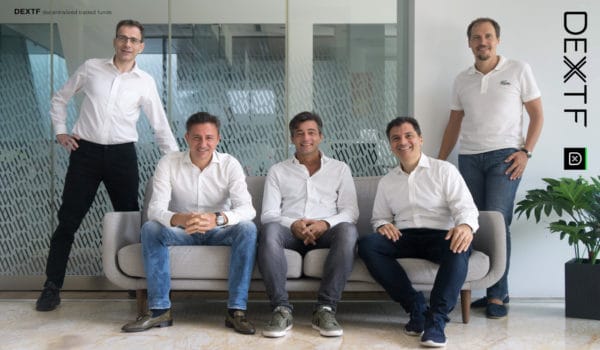 DEXTF, or "Decentralized Traded Funds," a Singapore-based startup has raised USD $460,000 in an oversubscribed seed funding round led by LuneX Ventures and SGInnovate, according to a release. The partners at London-based hedge fund CDAM also participated in the funding round along with other undisclosed private investors.
DEXTF is a platform that is described as disrupting asset management by bridging "investors peer-to-peer with asset managers eliminating the need for intermediaries." It also is said to enable fully decentralized custody, allowing the delegation of investment decisions without transferring ownership of the assets.
Supported by its strategic partner Mindful Wealth, DEXTF reports that it has been working on the completion of its proof of concept and will use the new capital to launch the product and further develop its technology.
Mario Aquino, co-founder and President of DEXTF, explains that traditional asset management is an industry experiencing a period of significant change – driven by the rise of ETFs and passive investments, the search for yield & diversification in a low-interest rate environment, and the increasing cost of legacy infrastructure with multiple intermediary layers.
"With DEXTF we are building a new asset management paradigm. One that not only helps traditional asset managers dramatically lower costs and tap into new investment asset classes but also significantly lowers barriers to entry and democratizes the allocation of resources to enable a new generation of digital asset managers<" said Aquino "We believe this co-investment by LuneX Ventures and SGInnovate will be synergistic for our growth and technology development, as we look to build DEXTF as a global platform."
Aquino adds that, currently, the bearer nature and immutability of digital assets means they cannot be safely invested in with traditional methods, especially when the investment decisions are delegated to third parties. In these cases, the custody of the assets is exposed to risks that can be best addressed by a blockchain solution.
Investor Heng Soon Pang, Head of Venture Building at SGInnovate said:
"Investing in digital assets remains an area of sustained interest, yet many see current investment infrastructure as inadequate for investors and fund managers. Leveraging the blockchain technology, the DEXTF protocol seeks to address this gap and democratize digital asset management in a secure and scalable way. We are excited to be a co-investor in DEXTF's seed funding round, to help scale their platform globally."
Sponsored Links by DQ Promote