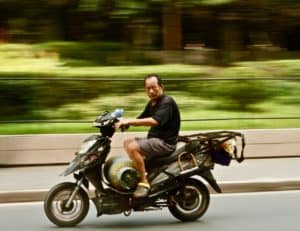 Scams involving new financial technologies comprise a 110 billion yuan ($16 billion USD) industry in China, according to the publishers of three blue books covering the current state of Fintech, Regtech and blockchain in China.
While producing some conveniences, new financial technologies like cryptocurrencies are also, "trigger(ing) many new forms of crime," including, "cross-border MLM crimes and telecommunication network fraud," Chinese state media outlet CCTV reports.  
Cryptographic payments channels have also enabled "specialized criminal gangs" to make cyberfraud China's 3rd largest "black industry," and the sector is, "Fast, complicated, industrialized and intelligent," CCTV writes.
According to Xie Shouguang, President of the Social Science Literature Publishing House that produced the blue books, the situation calls for enhanced oversight, something the same technology (blockchain and improved data systems) has improved:
"So in this case, financial supervision becomes particularly important. But supervision itself also requires huge costs, so through technology, especially including big data, blockchain, artificial intelligence technology, then the way we monitor today, its efficiency, should be said to have greatly improved."
According to CCTV, the bluebooks have identified 28 000 "blockchain" businesses operating in China, with roughly 50% of these (16 353) headquartered in the southeastern province of Guangdong.
Zhu Yidong, president of the Beijing Blockchain Technology Application Association, said about 25,000 of those companies issued a cryptocurrency or token, while about 4,000 stuck to simply developing their application.
Zhu urged the public to take pains distinguishing valid enterprises from scams.
It is believed that between 95 and 99% of global companies that issued ICO's (initial coin offerings) during the crypto boom of 2016 and 2017 have now folded.
"The first thing we should pay attention to is to prevent risks," said Zhu. "Do not think that some enterprises such as illegal fund-raising and such (as) financial frauds are considered to be a blockchain application enterprise."
Since the invention of Bitcoin in 2009 and the deployment of many Bitcoin-inspired systems, "Blockchain" has become a very vague term.

Generally speaking, the word refers to a type of database that is encrypted, is often self-settling, and which, in rare cases, can run somewhat "autonomously" without pointed central management.

Criminal intent, spending excesses and a lack of experience aside, many "blockchain" firms have ultimately failed because they were unable to produce market solutions that justify the complexity, lack of scalability and expense of running a true blockchain.

Though blockchain has been lauded as a panacea, critics have called it, "a solution looking for a problem."

Others have described the tech as a "square peg" tech which often cannot fit into the "round holes" it is thrown at.

Zsu admitted that blockchain remains, "Not so mature," and said, "there is still a high room for improvement."

The blue books reportedly found, however, that Chinese Regtech is, "in an unacceptable state."

Sponsored Links by DQ Promote