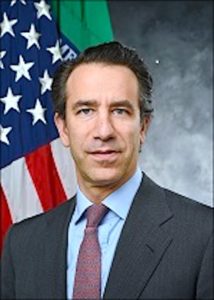 US Deputy Secretary of the Treasury Justin Muzinich delivered a speech this week where he addressed the emerging landscape of digital currencies. Muzinich commented on the "broader innovation trends that are shaping our banking and financial system."
Muzinich said:
"While banks today provide a range of financial services through financial holding companies, banking, as traditionally understood, has typically provided for the offering of several bundled core activities: the moving, storing and lending of money; or, in other words, the provision of payments, deposits, and credit. Technology is re-shaping each of these activities.  For instance, internet business models allow the acquisition of customers without branch networks, as well as the rapid aggregation of customer data by new entrants.  This has allowed the emergence of competitors that provide products and services on a standalone "unbundled" basis, as opposed to the more traditional bundled offering.  Consider payments, deposits and credit in turn."
Payments, a huge sector of Fintech, are now being facilitated by tech firms like Venmo (PayPal) and Apple.
Blockchain is "emerging as a theoretical alternative to centralized payment settlement," said Muzinich.
As banking becomes disaggregated into its component aspects and rebundled Fintechs are acting on the future of finance. Deposits are being accepted by non-bank entities such as SoFi.
For lending, you have online lendings like LendingClub or OnDeck.
"Ironically, firms may build a customer base through one product line like payments and re-bundle functions like lending over time," stated Muzinich "This is an interesting parallel to another trend, of online retailers opening or acquiring physical storefronts due to consumer demand.  Technology-based business models compete with existing businesses, and then may start to look like traditional businesses in the products they offer."
Muzinich said they welcome responsible innovation from a public policy perspective as it leads to more choices for Americans.
The competition makes existing businesses better as well.
But innovation in financial services raises questions for this highly regulated sector of industry.
"[The US Department of Treasury] recognize(s) that there is no way to fully future-proof our regulatory system and tackling these policy challenges will require ongoing work.  But one area I would like to focus on is payments, and more specifically cryptocurrencies.  Cryptocurrency projects in recent years differ from other trends in innovation in that they not only have implications for private business, but also for a number of activities the government is responsible for."
Muzinich believes that crypto can be used for illicit activities such as money laundering. The US Department of Treasury has made it clear that the existing rules apply whether these currencies are digital or not.
"Even if we could be assured that the private sector is complying with the letter and spirit of AML laws, there are important remaining concerns that government must consider, such as a digital currencies potential effects on the monetary base, financial stability, and user protection and privacy."
Muzinich reflected back to the days when currency was issued by regional banks. This approach was eventually rejected due to the inability to control a stable monetary system at a national level.
Facebook's attempt to create a non-sovereign global currency has obviously caused a lot of regulatory consternation. Muzinich questions what happens if a stablecoin moves from fully backed to partial reserves? Who controls that?
"We value innovation and welcome efficiency improvements," Muzinich stated. "However, decentralized privately-issued digital currencies are not simply a means of payment, but, depending on their structure, can shift some functions traditionally performed by government to the private sector. Digital currencies at scale raise not only concrete questions about money laundering, monetary policy, and other topics, but also very abstract questions about self-government. Those engaged in digital currency markets should therefore expect that policymakers, in pursuing the public interest, will take a very hard look at these issues."
Sponsored Links by DQ Promote