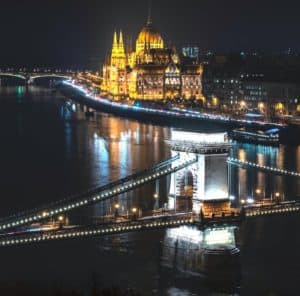 Some of Hungary's financial institutions might be forced to exit the market as they may not be adequately prepared to continue to compete with challengers from the Fintech industry. Traditional institutions are also facing increasing pressure due to declining revenues from a consistently low-yield environment, the nation's central bank noted last week.
The National Bank of Hungary's (NBH) Financial Stability Board stated:
"In the past period, government and central bank programmes played important roles both in the financing of the private sector and in the market of household savings. Simultaneously with that, as FinTech firms gain ground, competition in the market of financial services is also becoming increasingly intensive, and social expectations regarding the quality of services are also growing. Banks are exposed to these challenges in a low yield environment, which keeps their revenues under pressure, and makes them increase their efficiency by way of either digitalisation developments or mergers and acquisitions."
Traditional lending institutions that do not adopt the latest mobile banking and the rationalization of the branch network will be "unable to meet the profitability expected from them, and they may be forced out of the market over the medium term," the FSB said. "A number of domestic financial institutions are unprepared to fully meet the above challenges."
National Bank of Hungary on #FIntech: A number of domestic financial institutions are unprepared to fully meet the above challenges
The central bank, which has issued warnings stating that there are too many large financial institutions in Hungary, did not mention any particular lending institution.
The NBH, which is responsible for financial industry regulation, noted that the country's banking ecosystem is quite resilient and would be able to meet the relevant regulatory capital requirements, despite large, negative macroeconomic shocks.
The NBH claims that the current economic environment is still quite favorable with relatively high bank industry profitability, which is supported by the reversal of loan loss provisions and the rise in demand for lending services. According to the NBH, the present environment is appropriate for lenders to make the adjustments they need to remain competitive.
Established participants in Hungary's banking sector include local OTP Bank, Austrian competitors Erste Bank and Raiffeisen, Italian UniCredit and Intesa SanPaolo and Belgian KBC.
Hungary's central bank, which maintained interest rates unchanged approaching record lows in November 2019, says the rate of economic growth might drop to around 3.3% in 2020 from the current 4.5% recorded this year, according to the bank's recent quarterly inflation report.
The central bank will release updated forecasts at its next policy meeting, which is due on December 17, 2019.