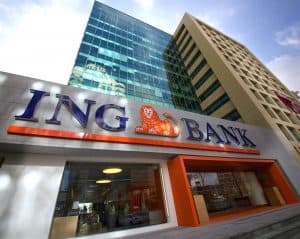 The majority of Filipinos still do not actively use online banking services with many locals preferring to visit traditional brick and mortar locations. However, an entire generation of new users in the country is now using digital banking platforms.
Europe-based Global bank ING, a financial institution operating in the Philippines for the past 30 years, provided local residents the first all-digital bank in November of last year. This year, its country manager Hans B. Sicat stated that he can't believe how quickly online savings are growing with the bank's app being downloaded more than a million times since launch.
Over half a million people who downloaded the bank's app became actual users. Sicat noted that client on-boarding should continue to grow "in a very fast double-digit, in the 20s" in the coming years.
Sicat remarked:
"We're seeing a huge pick up (in deposits and transactions) and that's an indication that Filipinos want to save more."
The highest number of app downloads were performed by people between 25 to 35 years old and this appears to be the best market to target.
"The 50 year olds… very small," Sicat revealed.
Sicat is hoping that the bank can attract more retail consumers next year, the bank's second year, after they introduce two new products, including consumer loans and a type of payments proposition. The latter will be provided in early 2020, while the customer loans are scheduled to be offered during the second quarter of next year.
ING consumer lending will be provided on the app, or special software that can be run on smartphones, tablets or desktop PCs.
Sicat noted:
"The credit decision will also be made via the app. Hopefully, it will be done within a minute. We're still calibrating. The target is the second half (next year)."
The bank has made it faster, more convenient and safer for new clients, and if a new account holder maintains a balance of up to P10 million, then they are able to take advantage of a competitive 4% interest rate per year until January 31, 2020. The bank is also giving ₱100 rebate for each transaction performed.
Sicat mentioned that anyone can open an online savings account for only ₱1. Smaller deposits will also be offered higher rates because in the digital realm,  "there's a very small marginal cost (and) we're demonstrating that the digital proposition is there" to promote more switching to internet-only banking solutions.
Sicat claims that in just one year, the bank's business "is bigger than what we originally expected." He says that in other nations where ING provides digital-only banking, it took more time to generate substantial revenue, with certain markets taking up to seven years. However, he is more confident about the markets in the Philippines.
Sicat remarked:
"At this point in time, we're building our digital platform. Digital (banking) is growing faster now than before. We're quite optimistic that retail (and wholesale banking business) will grow quite fast."
Sponsored