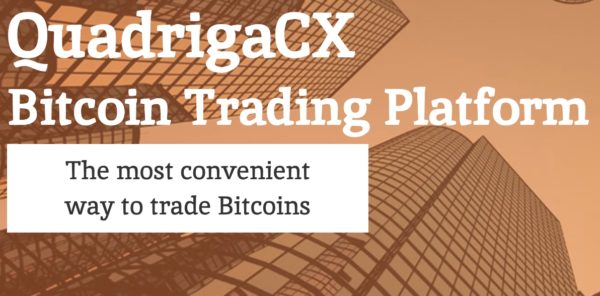 The widow of QuadrigaCX cryptocurrency exchange founder Gerald Cotten is reportedly "shocked and saddened" that lawyers for harmed investors have asked for Cotten's body to be exhumed.
Cotten reportedly died in India last December when acute symptoms of Crohn's disease overcame him while he was on honeymoon with Jennifer Robertson.
One major complication of Cotten's death is that he appears to have died without giving anyone else password access to $250 million CAD in exchange for customers' funds he was allegedly stored in hardware wallets (offline storage devices similar to hard drives).
Subsequent versions of the story produced by court monitors assigned during insolvency procedures found that Cotten did thousands of trades on other exchanges using customer funds in the months preceding his death.
Cotten may have been trying to gamble his exchange back into solvency, or may have been trying to relocate money and obscure his tracks, investigators believe.
To make matters worse, Robertson and remaining Quadriga personnel did not publicly disclose Cotten's death for a month and continued to allow deposits from exchange customers for nine weeks- even though they were likely aware of the problem with exchange wallets.
A letter from the Miller Thompson law sent firm in Toronto sent to the Royal Canadian Mounted Police (RCMP) December 13th asks them to, "conduct an exhumation and post-mortem autopsy on the body of Gerald Cotten to confirm both its identity and the cause of death given the questionable circumstances surrounding Mr. Cotten's death and the significant losses of Affected Users."
The letter also, "respectfully requests that this process be completed by Spring of 2020, given decomposition concerns."
Nova Scotia lawyer Richard Niedermayer old Coin Rivet that Robertson, "the wife of the late Gerald (Gerry) Cotten and executor of his estate, is heartbroken to learn of this request," to exhume.
"Gerry died on December 9 2018 in India – an independent investigation by The Globe & Mail confirmed this earlier this year, and it should not be in doubt," he added, stating, "it is not clear how the exhumation or an autopsy to confirm the cause of Gerry's death from complications arising from his Crohn's disease would assist the asset recovery process further."
Cotten's death has been the subject of much speculation in crypto circles, with some claiming there was a possible glitch in the chain of custody of Gerald's body once it left the hospital in India.

Sponsored Links by DQ Promote