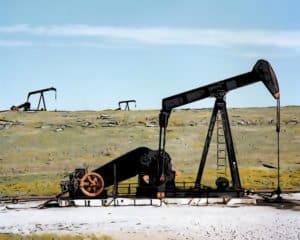 The Oil and Gas industry is digging into blockchain seeking operational efficiencies. While much of the focus of blockchain advocates is currently looking at transforming the financial services industry including digital assets, the old commodity types see potential to reduce operational friction too.
The OOC Oil & Gas Blockchain Consortium is described as an oil and gas industry consortium that was founded to advance blockchain technology. The goal is to eliminate common "industry pain points." Perhaps the most important aspect of the Consortium (at least for now) are its members which include:  Chevron, ConocoPhillips, Equinor, ExxonMobil, Hess, Marathon, Noble Energy, Pioneer Natural Resources, Repsol, and Shell.
Last month, the Consortium issued a statement on "Authorization for Expenditure" (AFE) balloting.
AFEs are used to approve capital expenditures involving multiple parties operating in a joint venture. According to the Consortium, "conventional" AFE balloting is not only time consuming and expensive but the current process uses up a lot of paper. Blockchain tech may be a variable in improving the process while keeping everyone on the same page – simultaneously.
The Consortium completed a "proof of concept" leveraging a smart contract process involving 9 different parties. According to the Consortium, the test involved an operator "electronically submitted AFEs under multiple scenarios to nine non-operating partners using blockchain nodes, which then automatically calculated working interest percentages based on the elections made by each partner. The balloting lasted several rounds until a final working interest among participating parties was determined."
Consensus?
Rebecca Hofmann, chairman of the OOC Oil & Gas Blockchain Consortium, called the test a success claiming it demonstrated "the power of this technology and its ability to transform fundamental oil and gas business activities."

For this specific project, GuildOne out of Calgary was enlisted to create the platform.

Supporters of the Consortium believe blockchain can create value in many different sectors of the business, including trading, and supply chain management. Currently, there are four projects that have been approved by the consortium to review.

While the Consortium is out to prove the value, in the end, it is how the tech helps to automate and streamline processes which creates value (and lowers cost) for everyone involved.

Sponsored Links by DQ Promote