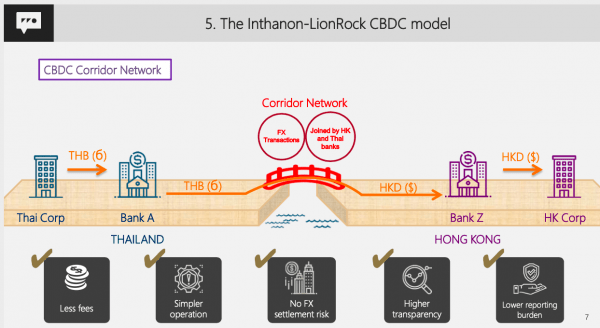 The Hong Kong Monetary Authority (HKMA) has posted a deck on its investigation into Central Bank Digital Currency (CBDCs). Project LionRock is the CBDC blockchain from Hong Kong and Inthanon is from Thailand as the two partnered in the project.
The HKMA said it developed a proof of concept digital currency in partnership with HKICL, three printing banks and R3. In the 3rd quarter of 2019, eight Thai banks and two Hong Kong banks worked with the Bank of Thailand (BoT) and the HKMA to develop the cross-border funds' transfer PoC.
According to the report:
"Given the highly efficient and trusted retail and wholesale payment infrastructures in Hong Kong, value of CBDC at both retail and wholesale levels in local market appeared to be limited."
While perceived value may be low, the HKMA said they "continue to explore other potential business cases, e.g. cross-border funds transfers at the wholesale level, and study the development and impact of CBDC with other central banks."
The results of the study are described as follows:
The PoC is successfully completed and confirms the technical feasibility of implementing practical solutions to address key pain points of crossborder payments
Cross-border funds transfers can occur real-time with fewer intermediaries or settlement layers, therefore, the benefits discussed previously can be achieved, i.e. efficiency is enhanced, cost reduced, settlement risk lowered, transparency and compliance enhanced
While it only tests a THB-HKD corridor with 10 participating banks from Thailand and Hong Kong, the model is designed to be scalable and can be further extended to other jurisdictions or markets
Hong Kong and Thailand are not alone in their review of CBDCs as many central banks are reviewing the concept. Much of the focus targets the potential to remove intrinsic friction, and thus cost, in the transfer/payments ecosystem as well as possible risks. Central banks became more keen on reviewing CBDCs following the announcement by Facebook on its intent to create a non-sovereign, global digital currency.
Further study is expected to review additional pilot projects, legal issues and connecting to other banks or relevant parties.
The HKMA CBDC deck is embedded below.
---
CBDC Research Report Project Inthanon-LionRock HKMA January 2020

---
Sponsored Links by DQ Promote