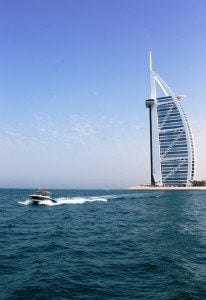 Large banks based in the United Arab Emirates (UAE), one of the Middle East's leading financial hubs, have been investing in digital transformation projects to compete in an industry with rapidly changing consumer requirements – according to analysis performed by Bloomberg Intelligence.
The analysis revealed that technological innovation is vital when it comes to acquiring market share and developing flexible, cost-effective solutions. Higher IT spending may lead to a consolidation of smaller financial institutions as larger banks upgrade their legacy platforms, the analysis noted. It also mentioned that traditional banks might also merge with other institutions in order to become stronger and more competitive.
The analysis found that Emirates NBD (ENBD), one of the largest banking groups in the Middle East, is ahead of its competitors in the region in terms of its digital transformation efforts. It was notably among the first to migrate its core banking platforms to an application program interface (API)-enabled solution, which was backed by a AED 1 billion (appr. $272.3 million) investment.
ENBD's API Sandbox, introduced back in November 2018, offers a controlled environment where Fintech firms can pilot various solutions that could be used to enhance the bank's core operations. Competitors are likely to work on similar projects, and would have to follow policy requirements that are somewhat similar to Europe's Payment Services Directive, which requires giving open-banking access to all businesses, which includes Fintech firms.
Bloomberg Intelligence noted:
"This could pressure lenders to modernise legacy systems to keep up with ENBD. An example of ENBD's agility is the launch of E20, a digital bank for SMEs. Digitizing the back office and enabling API infrastructure enables a response to emerging needs via innovative offerings. Smaller banks are likely to struggle to compete with larger peers investing heavily, which should be a driver of consolidation."
Sponsored