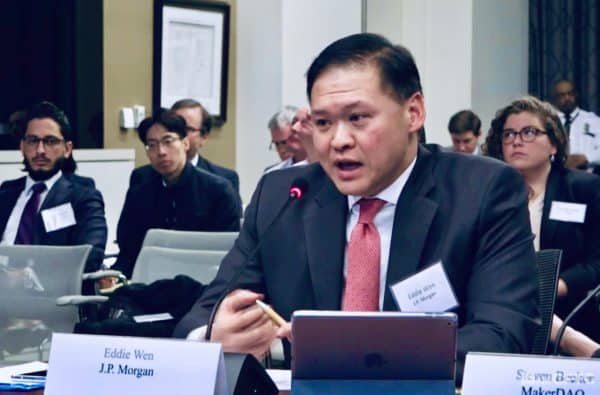 During the Commodity Futures Trading Commission (CFTC), Technical Advisory Committee (TAC) meeting held today, JP Morgan (NYSE:JPM) provided some additional insight into its proposed stablecoin: JPM Coin.
Eddie Wen, Global Head of Digital Markets at JP Morgan, presented an explanation of JPM Coin.
Wen said the crypto is not a replacement to fiat currency, like the dollar, but more of an enhancement. He said while the technology may first be focused on dollars the tech is really agnostic and can be used for any fiat currency, thus foreshadowing an expansion of the crypto platform.
A Digital Representation of a Clients Money at the Bank
Wen explained that JPM Coin is designed to facilitate instantaneous payments using the Quorum blockchain protocol. Over time, JPM Coin expects to be "operable on all standard blockchain networks."
Wen said that JP Morgan foresees use cases as one would expect. Blockchain payments platform, corporate internal liquidity management and securities delivery versus payments.
A globally consistent taxonomy for privately issued stablecoins is critical, according to JPM.
Wen also outlined core principles that should guide the regulation of digital assets including stablecoins.
"A coherent, globally consistent approach to the oversight and supervision of blockchain or DLT-based activity will minimize regulatory arbitrage opportunities and encourage innovation," claims the JPM presentation.
The presentation noted that JPM coin is a prototype and all regulatory and compliance obligations will be satisfied prior to any live product or service that may utilize JPM Coin.
In contrast to Facebook's proposed Libra cryptocurrency, JPM Coin appears to only target transactions based on existing fiat currency and thus should be more acceptable to regulators. Some critics of Libra believe it will be designated a security in its current proposed iteration.
---
JPM Coin CFTC TAC Presentation February 2020

---
Sponsored Links by DQ Promote