Global Digital Finance (GDF), an industry membership body that supports the use of best practices for crypto-assets and digital finance platforms through the development of conduct standards, has partnered with Washington DC's FS Vector, an advisory and advocacy company. The GDF has also appointed four new senior officials in order to enhance its global policy and regulatory capabilities.
John Beccia at FS Vector will be in charge of US regulatory affairs and matters for GDF.  Lavan Thasarathakumar from Thasa Consulting, a consultant at GDF founding member Hogan Lovells and a European public policy expert, will be responsible for EMEA regulatory affairs.
Malcolm Wright, chief compliance officer at Diginex, a crypto-asset financial services and advisory firm, has been appointed as the chairperson of the Global Digital Finance Advisory Council. Bryony Widdup, partner at DLA Piper, will be in charge of the Advisory Council Secretariat, which is responsible for the GDF Code of Conduct.
Lawrence Wintermeyer, co-chair at Global Digital Finance, stated:
"These highly experienced and seasoned professionals complete the new international regulatory affairs team. They bring a wealth of experience, insight, and a vast and influential global network to the GDF membership and mission."
Jeff Bandman, board member and regulatory engagement head at GDF, noted: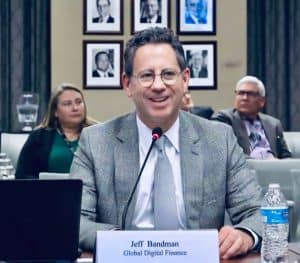 "Our partnership with FS Vector and appointment of these high-caliber industry professionals will supercharge GDF's regulatory and policy maker advocacy programs globally.  These talented new resources will exponentially accelerate GDF's ability to execute its regulatory mission and vision, enabling us to drive and support regulatory clarity and consistency in our rapidly developing industry."
Global Digital Finance takes part in various outreach programs with regulatory authorities across the globe. It engages in discussions with standard-setting organizations and non-governmental organizations, or NGOs. 
Bandman recently presented his group to the Commodity Futures Trading Commission, Technical Advisory Committee.