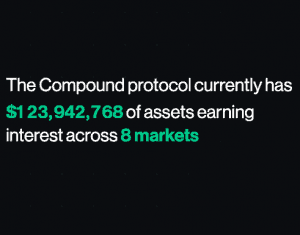 The developers of Compound, a leading Ethereum-based decentralized finance (DeFi) solution, will be decentralizing the governance process of the lending protocol.
This will be achieved by launching a token-based governance model.
The Compound team had announced plans to use a governance token back in February 2020, after the protocol's creators secured $25 million in capital through a Series A investment round (in November 2019).
Compound is the second-largest DeFi lending platform with more than $24 million worth of outstanding debt, according to Loanscan data, a website that tracks lending activity in the Open Finance market.
Robert Leshner, CEO at Compound, confirmed in February that the decentralization of the protocol won't be achieved overnight. It will be a gradual transition, and one where the lending platform's stakeholders will be able to make important decisions regarding Compound's ongoing development.
Compound will be switching from having a centralized administrator that manages the protocol to a decentralized community governance approach, which will be run by COMP token holders.
Compound's governance tokens have now been launched on the platform's mainnet.
As explained by the protocol's developers, the switch to the new governance model took place after a single contract call was made. This switched the administrator from an address managed by the Compound team to a contract controlled by COMP token holders.
Coinbase Custody, a leading crypto asset custodian, will be supporting COMP tokens, along with various other digital tokens that are part of, or associated with, the protocol's ecosystem.
The Coinbase Custody team noted:
"[We] will offer a fully integrated solution in our existing web app, allowing our clients to view and vote on Compound Governance Proposals, as well as delegate governance rights to third parties. In addition to supporting COMP and Compound Governance, starting today, we are excited to announce that clients can also deposit and withdraw their Compound balances (cETH, cZRX, cUSDC, cBAT, cDAI)."
They added:
"Governance will take many forms, all enabled by the COMP token (Note that Coinbase does not yet support COMP on its trading platforms). Coinbase Custody clients will have the option of manual voting, where they can vote directly on proposals, or delegate voting, where they can delegate their votes to a third party."
Coinbase has invested in Compound's operations through its venture capital division (Coinbase Ventures).

Leshner said that having reliable custody solutions for the protocol will reduce the risk of losing valuable governance tokens.

Compound's sandbox period officially began on April 16, 2020. This is a process whereby governance tokens will be distributed among the platform's stakeholders, who will then delegate voting weight to either themselves or the public.

A certain amount of the governance tokens will be kept by the Compound team for a four-year vesting period. These tokens will be gradually distributed (over a period of time) to the protocol's users during the next few months.

The Compound token will not be available on digital asset exchanges. It won't be accessible to the general public just yet, Leshner confirmed.

Sponsored Links by DQ Promote