The Commodity Futures Trading Commission (CFTC) has announced that Commissioner Brian Quintenz will depart the agency at the end of his term. Quintenz will have completed a 5-year stint at the Commission.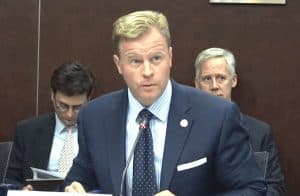 Quintenz issued a statement on his decision to exit the CFTC stating that after thoughtful consideration and much discussion with his family, he has decided not to seek re-nomination to another five-year term as a Commissioner.
"With five years having passed since I was first selected for this role, it is time for me to pursue new challenges and opportunities," said Quintenz.
Quintenz has played a key role in the Fintech aspect of the CFTC. He has led the CFTC's Technology Advisory Committee (TAC), the entity within the agency that dealt with new, and challenging issues like cryptocurrency futures. Quintenz said:
"I've been particularly honored to sponsor the CFTC's Technology Advisory Committee (TAC), where we've had the opportunity to explore the extraordinary technological renaissance transforming our financial markets.  During my term, the agency has overseen the listing of Bitcoin futures contracts, the custody of digital assets within the traditional clearing infrastructure, the proliferation of blockchain technology, and the creation of crypto-graphic, tokenized commodities.  In addition, the TAC and its subcommittees have explored the evolution of state-of-the-art risk control mechanisms at exchanges and firms, cryptographic proofing mechanisms, digital asset trading platform self-regulation standards, and scalable cyber-security programs."
Quintenz said he will remain at the CFTC until October or until a replacement is confirmed.

Sponsored Links by DQ Promote